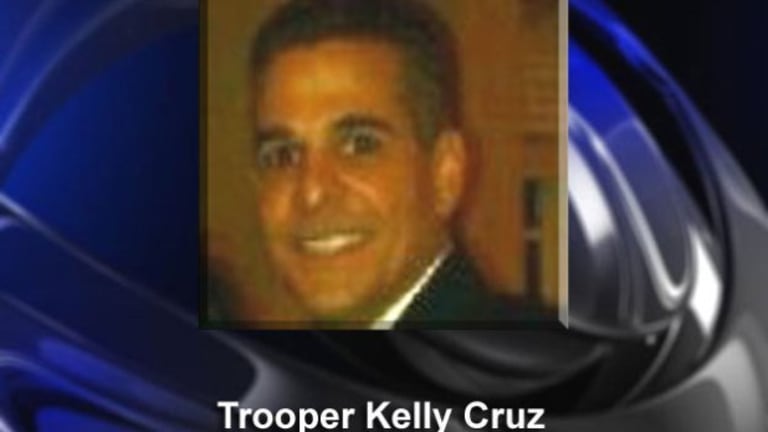 Trooper Acquitted, After Admitting to Stomping Man's Head While He Lie Face Down in Cuffs
April 15, 2014
A Pennsylvania state trooper accused of stomping a handcuffed man in the head during a botched 2009 drug raid was acquitted Monday of a federal civil rights violation charge.
Cheers and applause erupted in the courtroom from more than two dozen of Kelly Cruz's law enforcement colleagues as the jury delivered its verdict to U.S. District Judge Mary A. McLaughlin. It took less than two hours for the panel of five men and seven women to come to its decision.
A visibly relieved Cruz declined to comment. His lawyer, Christian J. Hoey, described the verdict as "a good decision."
"Nobody celebrates the fact someone was injured," he said. "But he's a heck of a law enforcement officer and an asset to the United States."
Cruz, 44, of Oxford, never denied that he caused the injuries sustained by 22-year-old Zachary Bare during an August raid on the man's home in Chester County. He testified Friday that he did not realize Bare was handcuffed at the time and thought he was trying to stand to attack him.
He told jurors that he pinned Bare's shoulder with his foot in an attempt to keep him on the ground - all while Bare was screaming obscenities and rolling on the floor.
"I responded the way I was trained to respond," he testified Friday. "I reacted to what I saw. If I fail, I don't come home to my family."
Prosecutors described a vastly different incident - involving a kick to the back of Bare's head, witnessed by at least one police officer, as the man lay handcuffed and prone on his kitchen floor.
The impact left Bare with shattered teeth, a broken nose, and two facial fractures.
Cruz was working as a liaison to a Chester County drug task force and assisting the West Whiteland Police Department on what was to be a surprise assault on a suspected meth lab in an Exton house. When officers arrived, the men inside spotted them and tried to escape.
Officer Jeffrey McCloskey told jurors last week he saw Bare running nearby and followed him to a house five doors down. He ordered Bare to the floor as another officer handcuffed him. Another West Whiteland officer, Glenn Cockerham, testified he witnessed Cruz kick Bare - a use of force he later described in an investigative report as "totally unnecessary."
Investigators eventually determined that Bare was not at the drug house at the time of the raid and he was never charged in the case.