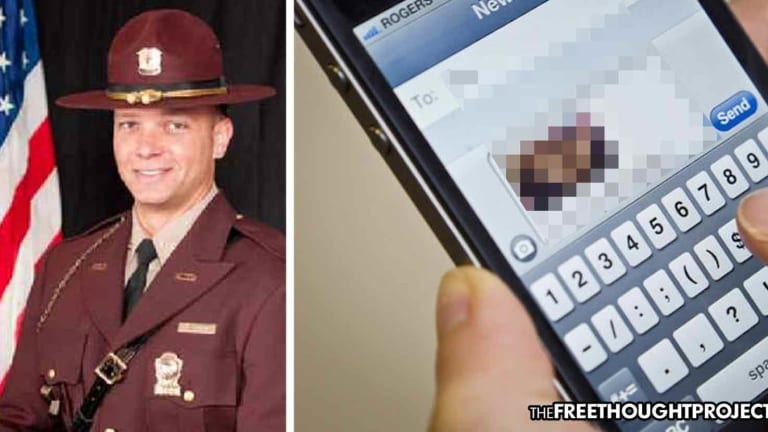 Cop Charged With Stalking for Stealing Crash Victim's Phone, Sending Himself Her Nude Photos
After responding to a single car crash, a state trooper stole the victim's phone, illegally searched her photos and sent himself her nude photos.
Minneapolis, MN — When Minneapolis cops aren't kneeling on people's necks for 8 minutes until they die, or conducting drive-by pepper sprayings on peaceful protesters, apparently, they are stalking crash victims. A Minnesota State Patrol trooper from Minneapolis was charged with felony stalking this week for taking a woman's cell phone and using it to send himself nude photos of her, the Hennepin County Attorney's Office announced.
Albert Kuehne, 36, was charged with two counts of stalking with bias for the incredibly creepy act. According to the criminal complaint,  Keuhne responded to a one-car accident at the location of I-94 and Cedar Avenue in Minneapolis where he encountered the driver of that vehicle, a 25-year-old woman.
Kuehne detained the crash victim on suspicion of DWI and she was eventually transported to the hospital where she was treated and released. She was not charged with DUI.
However, upon returning home, the victim's boyfriend was using her Macbook which was linked to her cell phone and discovered that something was awry. The Macbook records showed that the victim's phone was accessed and sent I-messages containing nude photographs of her to an unknown phone. Her phone itself had no record of the messages being sent because Kuehne had deleted them.
As FOX10 reports:
Her boyfriend called the phone number, and the person who answered eventually identified himself as Kuehne. The woman called a lawyer, who reported the incident. The Minnesota Bureau of Criminal Apprehension began an investigation.

According to the complaint, Kuehne's squad video showed him leading the woman to his squad car. Along the way, the woman took out her phone, and Kuehne demanded that she give it to him. The cell phone records indicate the photos were sent from the woman's phone at 4:44 p.m. The video showed Kuehne alone in his squad at that time while paramedics treated the woman.

Investigators obtained a search warrant and seized Kuehne's phone. They found three photos of the woman on his phone, according to the complaint.
According to the criminal complaint, the victim told investigators that she never gave Kuehne permission to access her phone much less send himself the nude photos. Despite initially denying the allegation, the warrant says Kuehne later admitted to sending the nude photos to his personal cell phone.
"One of the things about computer cases: they're data driven. So, they're not like I can say, 'I was in Detroit and it didn't happen.' The records are what they are," Minneapolis defense attorney Bruce Rivers, who is not involved in the case, said.
"For the officer to even be able to access her phone, even under a lawful arrest, he'd have to go get a search warrant to look in that phone," Rivers said. "Right now, it's a very difficult time to be a police officer. And for you to be a police officer abusing your position right now is not a position I'd like a client of mine to be in."
Though this all unfolded in March and the evidence against him was overwhelming, empirical, incriminating, and he confessed, Kuehne's blue privilege allowed him to stay on the job for two months before being placed on paid vacation on May 20th.
Had anyone else been caught red-handed in such a manner, rest assured they would have been arrested immediately. In response to the trooper's arrest, the Minnesota State Patrol released the canned statement noting that they hold their officers to the highest standard.
The alleged conduct outlined in this complaint is reprehensible and inconsistent with the core values of the Minnesota State Patrol. We hold troopers to a high standard and will take appropriate action regarding this matter. In the meantime, he is on leave pending further investigation.