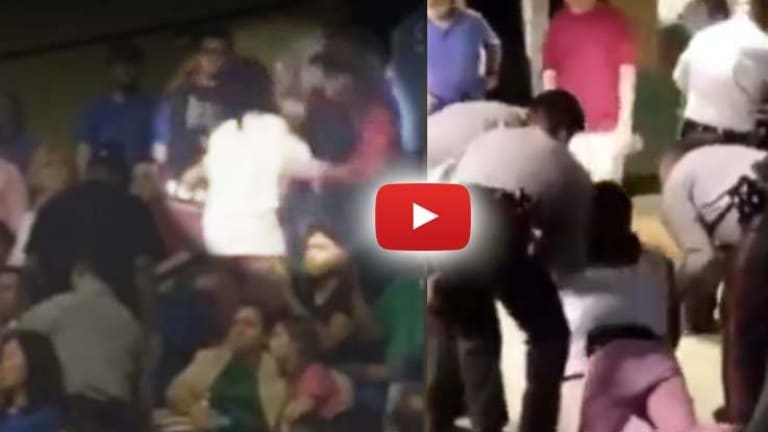 Trump Supporter Sucker Punches Protester in Front of Police -- Cops Tackle and Arrest the Victim
Cops stand idly by as an innocent man is assaulted by a Trump fan -- Instead of stopping the fan, police attack the victim.
Fayetteville, NC -- A series of videos uploaded to social media Thursday morning shows an infuriating scene and a possible prediction of more to come if Donald Trump is elected as President.
In the video, we see two black males being escorted out by multiple police officers. All of the sudden, a Trump supporter in the stands felt it necessary to sucker punch the man as he walked by.
Instead of arresting the man who clearly assaulted someone who presented no threat whatsoever, the officers, seemingly reacting to the mob mentality of the crowd, swarm the victim. He is then thrown to the ground, handcuffed and detained.
While witnessing the assault on a nonviolent man, the crowd erupts in approval. As the cops tackle the victim, the roar becomes louder.
The man who was assaulted and then handcuffed was Rakeen Jones, a 26-year-old inventory associate. Jones had not gotten physical and was merely being escorted out because a person in his group yelled during Trump's speech.
"She shouted, but at the same time, they were shouting too," Jones said. "Everyone was shouting, too. … No one in our group attempted to get physical."
"Boom, he caught me," Jones told The Washington Post in a telephone interview. "After I get it, before I could even gain my thoughts, I'm on the ground getting escorted out. Now I'm waking up this morning looking at the news and seeing me getting hit again."
According to the Post, Jones said he and four friends — a "diverse" group that included a white woman, a Muslim, and a gay man, had gone to the rally as a "social experiment." He said the woman with them started shouting once Trump's speech began.
Ronnie C. Rouse, one of the people who captured the assault on video, and one of Jones' friends at the rally, said he was taken aback as the crowd began chanting, "Go home n**gers!"
After Jones was assaulted by the fan, assaulted by police, and removed from the stadium in handcuffs, police did finally arrest the Trump fan who assaulted him.
John McGraw, 78, the ponytailed assailant, was charged with assault and disorderly conduct for his actions.
[author title="" image="https://tftpstagingstg.wpengine.com/wp-content/uploads/2016/03/magorist-e1456948757204.jpg"]Matt Agorist is an honorably discharged veteran of the USMC and former intelligence operator directly tasked by the NSA. This prior experience gives him unique insight into the world of government corruption and the American police state. Agorist has been an independent journalist for over a decade and has been featured on mainstream networks around the world. Follow @MattAgorist[/author]