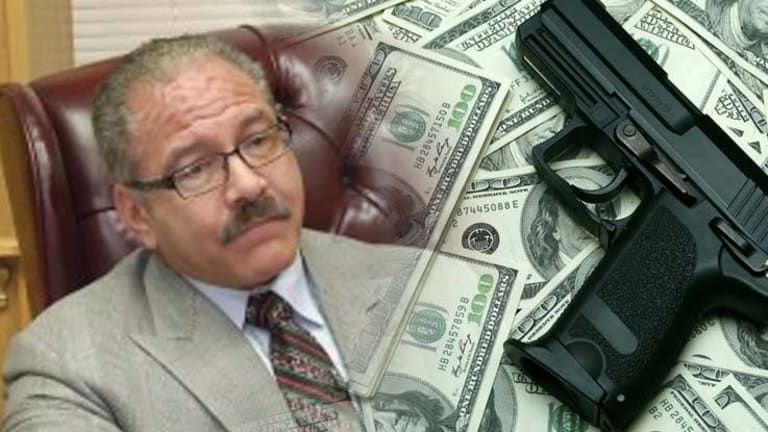 Tulsa Cops Caught in Alleged Conspiracy with Judge to Steal Cash and Guns from Citizens
The Tulsa County Sheriff's Department is running one of the most effective mafia-style theft rings with the help of District Judge James Caputo.
Tulsa, OK -- A sheriff's office and a District judge are demonstrating just how low the state can go in stealing cash and property from innocent people. For these enforcers of the drug war, even the minor burden of proof needed through Civil Asset Forfeiture is too much trouble.
The Frontier, an investigative group in Tulsa, found that District Judge James Caputo and the Tulsa County Sheriff's Office skirted the law to direct even more of the citizens' assets into department coffers.
 "Though judicial assignments are supposed to be random, the same criminal judge has been assigned to hear more than half of the civil cases in which the sheriff's office sought to seize cash and guns from citizens through an unclaimed property law, an investigation by The Frontier and NewsOn6 has found.

Tulsa District Court policies regarding judicial assignments and transfers were not followed in several of the cases, which involve cash, guns and other property seized by the sheriff's office from hundreds of citizens.

Courthouse records show the sheriff's office tried to ensure that most of the cases would be heard by District Judge James Caputo, a former deputy whose daughter works at the sheriff's office. Though judges are supposed to be randomly assigned per courthouse policy, Caputo's name was printed on the petitions filed by the Sheriff's Office."
Using a provision of Oklahoma law Title 22, the sheriff's office sought to take possession of "unclaimed property or money in Sheriff's possession." It can then keep the cash and sell the property, using the loot "for the purchase of equipment, materials or supplies that may be used in crime prevention, training or programming."
However, the seized property is most often obtained through searches and arrests, and should be treated as civil asset forfeiture, according to an attorney representing 14 people with claims against the sheriff's office. But Judge Caputo is mum on this topic.
"When asked whether the cases should have been filed as individual forfeiture cases, Caputo abruptly ended the interview.

"'You know what? We're done,' he said."
Even property obtained from burglaries is fair game. Several victims of burglaries have written to request the return of their property, but are unsuccessful because the sheriff's office did not match a name to the item.
This failure to add owner names to the records of seized cash and property, which allows it to be classified as "unclaimed property," is no accident.
"A July 2013 court filing for the disposal of property 'whether stolen, embezzled or otherwise obtained' is missing an exhibit list that is supposed to contain the items being considered for seizure, along with the name and address of the each last known owner.

When asked where the exhibit list was for the case, a court clerk searched the file and computer system and said: "Sometimes they come in from the sheriff's office without one."

...Several other files contain exhibit lists that only contain case numbers and property room numbers — no name and address for the last known owner of the property in question."
The sheriff's office has not supplied information on how much income is generated from the "unclaimed property" scam. Under this law, citizens have only 10 days to claim their property or cash. Even when the owners show up in court to claim their cash and property, the court often says they have no proof and sends them walking.
Judge Caputo has overseen five cases on behalf of the sheriff's office, and is intending to hear his sixth, where the sheriffs seek to keep $170,000 in cash and hundreds of guns owned by more than 900 people.
Caputo admits that someone from the sheriff's office came to him for help clearing out the property room. Caputo says that he got permission from former, now-deceased, presiding judge Carlos Chappelle to handle the cases, although he has no documentation of such.
Presiding District Judge Rebeccas Nightingale, who took over in June, was unaware until recently that cases were being moved to Judge Caputo under dubious circumstances. The Court Administrator, who usually signs transfer orders, also had no record of the three transferred cases.
Another hint at foul play seems to be the fact that the petitions for the new "unclaimed property" cases already had Caputo's name printed on them, which is against policy.
"Tulsa District Court rules state: "Assignment of cases shall be by random computer function except in those cases required by statute or court rule to be assigned to specific judges or divisions of the court." Neither of those exceptions appear to apply in the case of unclaimed property filings."
Still, somehow the three cases ended up in Caputo's court that were originally assigned to other judges, but were moved to Caputo without an order from the presiding judge, as stipulated by court rules.
Nightingale has corrected the most recent mysterious transfer by sending it back to the original judge.
Given the obvious tampering going on with court rules in cases of "unclaimed property," a deeper look should be taken in Tulsa County into this outright theft that even outdoes civil asset forfeiture.