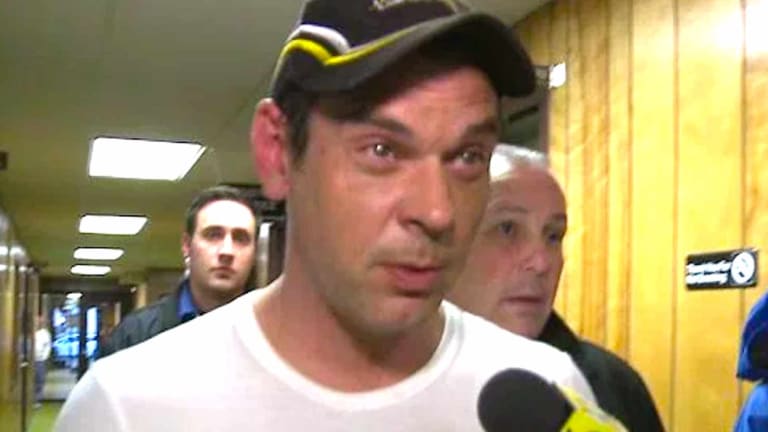 Cop Violently Rapes Two Little Boys, Pleads Guilty, Gets Work Release Instead of Prison
A former cop was arrested and charged with the rape of two children but took a plea deal which will prevent him having to spend an entire day in prison.
The headline reads "Ex-Dupont police officer sentenced to prison for corruption of minor" but former Dupont Borough police officer, David Turkos, 44, will likely never spend an entire day inside of a prison cell for raping two young boys. Judge Michael T. Vough sentenced Turkos for 9-23 months, at Luzerne County Correctional Facility, but the former officer is immediately eligible for work release.
For those unfamiliar, work release allows a prisoner to go to a job during the day and only have to sleep nights in jail. It is essentially state-funded housing.
Turkos was charged in 2015 with three counts of involuntary deviate sexual intercourse with a child, two counts of indecent assault and a count of simple assault. However, he only pleaded guilty in June to two counts of corruption of minors. The plea deal was accepted by Vough and the more serious felony rest counts were withdrawn — a typical and common privilege afforded to the thin blue line, even for the vilest of offenders.
The charges were the result of accusations from his now teenage victims. Two victims came forward, accusing Turkos of having sexually abused them on multiple occasions when they were between ages 4 and 6. They told investigators Turkos threatened to hurt their pets and loved ones to keep them quiet. Another victim told investigators Turkos would zip-tie him to a railing while sexually assaulting him, then he would offer him gifts to stay quiet.
But it wasn't the first time the former officer had been accused of criminal impropriety while wearing a badge. In 2008, while he was still a police officer, he was arrested, charged, and pleaded guilty to assault and harassment for allegedly beating his wife and stepson. And in 2009, following allegations Turkos was masturbating in front of two young children, he was sentenced to six months to a year in county prison for corruption of minors.
The sentencing has angered many residents who took to social media to express their outrage. Bee Barrone posted in the FB Group "Crazy Shit Going Down in Wilkes-Barre Area". She wrote;
There should be a protest to beg the DA to reconsider the "plea agreement" that allows the dupont police officer child rapist immediate work release and only 9 months of work release not even prison!!!!!
Barrone expressed outrage at the torture the boy must have endured who was also raped by Turkos' father. Yes, that's right. The cop and his dad were both victimizing the boy. Joseph Turkos, the former officer's father, was convicted of a misdemeanor count of corruption of minors in August 2014 after he was charged with sexually assaulting one of the same boys. Barrone explained:
Judge Michael T Vough handed him a 9 month work release sentence after he raped the same little boy his very own father did who is currently serving his prison sentence!
Barrone, who wasn't alone in her outrage, expressed disbelief more parents and members of the community were not equally as enraged. She appeared equally miffed the justice system did not throw the book at the law enforcement officer who was supposed to have been protecting the child, not raping him. She also made reference to the viciousness of the crime.
I absolutely CANNOT believe there are lawyers, police officers and parents accepting this sentence. If it isn't bad enough the little boy who was under the age of 13 was raped already by the perp's father, he still wasn't free he was left to be tortured and viciously raped by ANOTHER DUPONT POLICE OFFICER! Gagged, choked, handcuffs, zip ties???
Barrone called on members of her community to be more diligent in voting for their judges and district attorneys:
People with a heart need to speak up for this child. The system has failed him MAJORLY! This town is so corrupt and effed up its beyond disgusting! DO NOT FORGET ITS VOTING TIME SOON PEOPLE! Get this DA AND THESE JUDGES OUT OF HERE!!!
The victims spoke out about the abuse they endured and the threats made against their lives. According to the Times Leader:
The teenagers, both known to Turkos, said the assaults happened between 2001 and 2008, stopping only when Turkos exited their lives. During questioning at the 2016 hearing, they explained why they waited to come forward. "I was afraid," said one of the victims, who was 14 at the time of the hearing. "(Turkos) was being physical and he made threats." "I was being threatened," stated the second victim, then 19, adding he "absolutely" bought into the threats because Turkos owned a gun and "he would frequently point it at us."
The slap on the wrist sentences for former police officers who have engaged in criminal sexual activity has now become so commonplace it borders on the edge of being comical—if it weren't so horrific.
As TFTP has reported, police officers often use their badge to abuse children. Then, they are given preferential treatment, it seems, by the courts who for some reason appear to take their public service into consideration at sentencing. Turkos was a twice-convicted criminal who was allowed to keep his badge. Even the Times Leader cannot pinpoint exactly when the police officer resigned or was fired from the Dupont Borough Police Department.