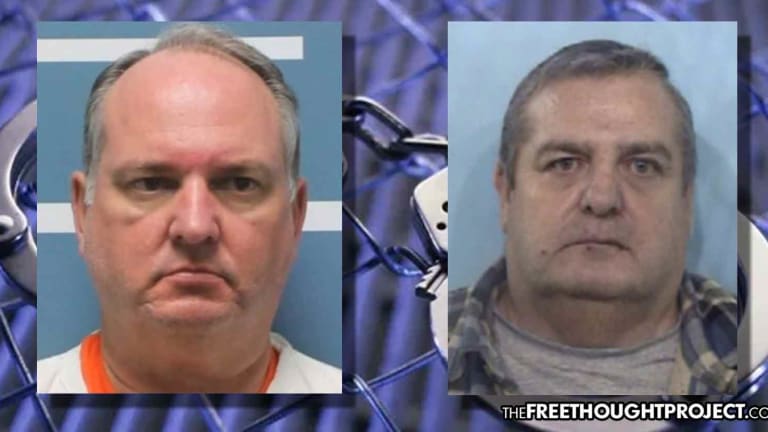 Two Officers Arrested for Molesting Children While Working as Pastors at Church
Two law enforcement officers were arrested and charged with multiple sex crimes against children for molesting kids when they were youth pastors.
Tulare, CA — Two California Department of Corrections and Rehabilitation (CDCR) officers, one retired and one on active duty, were arrested last month and charged with sex crimes dating back to the 1990's. Steven Arey,48, and Kevin Sandoval, 56, were both charged with molesting children when they worked as youth pastors in their church.
A now adult person presented themselves at the Tulare Police Department and said they had been molested on multiple occasions by youth pastors at Valley Bible Church in Visalia when they were just 8 or 9 years old.
Detectives began to investigate the person's claim and quickly identified Arey as the suspect in the alleged crimes. Sandoval also reportedly worked at the same church with Arey and was also mentioned as an alleged perpetrator of the sex crimes against children.
On November 21st, Sandoval was arrested and charged on multiple counts of child molestation. Sandoval is a retired sergeant with CDCR. He was arrested in Rancho Cordova but lived in Tulare at the time the crimes were allegedly committed.
The next day, the 22nd of November, detectives went to Arey's workplace, the High Desert Prision in Los Angeles county, and placed him under arrest. Both men were booked into the Tulare County Jail on multiple counts of child molestation.
Following the arrests, on Monday, the Tulare County District Attorney's office has compiled 5 counts of child molest on Sandoval and 15 counts on Arey. It's unclear if either man has secured an attorney and police and prosecutors alike believe there are more victims.
At his arraignment, it was revealed Ayer had at least 3 victims, all under the age of 14, between the years 1997 and 2002. As a result, Arey has been charged with 15 felony counts of lewd acts on a child. His bail was set at $250,000. Tulare County Judge Ricky Tripp stated:
The two concerns I have are the victims themselves-any future harm they could be caused because of the nature of the charges...And I think in this case since there are three alleged victims-that's significant on the court. Then, based on the amount of time you could be facing if convicted, (there are also) concerns whether you would come back to court if I were to release you.
According to the Department of Justice, pedophiles and child molesters victimize on average 260 children during their lifetimes. Over 90% of convicted pedophiles are arrested again for the same offense after their release from prison.
As a result, the Tulare Police Department's Detective Matt Muller believes there are more victims and wants such individuals to come forward to tell their story and be heard. Muller can be reached at (559) 685-2300 extension 2157. If you or someone you know has been victimized by Ayer or Sandoval, please call and leave a message even if you do not speak with Muller directly.
If these two lawmen are indeed guilty of the crimes with which they've been arrested and charged then they need to be held accountable for their actions.
As we have previously reported, pedophiles often gravitate toward positions of employment where they earn instant trust and command authority over kids. In the aforementioned instance, the individuals in question were playing the roles of two on our list: cops and pastors.
Also, as we have previously reported, and the Catholic Church has exemplified, pedophiles love being pastors. They can get away with their crimes, all the while hiding behind a religious facade. Likewise, as corrections officers pedophiles have qualified immunity from prosecution, the respect of the public, and the fallacy of belief held by the masses that cops could never be pedophiles. Unfortunately, such a conclusion is simply untrue and hides a multitude of sins.