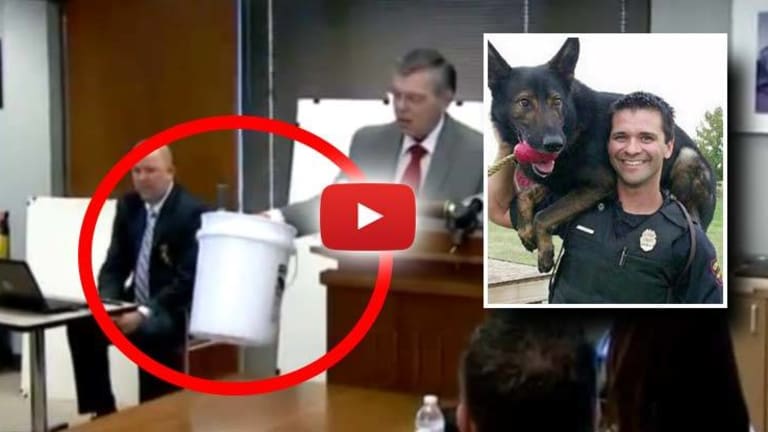 On His First Day Back After Killing a Man, Cop Kills Another Man Who "Brandished" a Plastic Bucket
Ten days after gunning down a suicidal veteran, this cop returns to work and kills another man -- 'armed' with a bucket.
Kenosha, WI -- Officer Pablo Torres was "justified" in killing Kenosha, Wisconsin resident Aaron Siler a year ago because the officer "reasonably believed" that the victim, who was "armed" with a five-gallon plastic bucket, posed a potentially lethal threat, according to Kenosha County DA Robert Zapf.
Zapf's ruling focused on Torres's subjective perception of a threat, maintaining that "the standard is what an ordinary, prudent, and reasonably intelligent officer would have believed in Officer Torres's position, having the knowledge and training that Officer Torres possessed, and acting under the circumstances that existed at the time of the shooting."
On the evidence of this incident -- among countless other very similar ones -- the "knowledge and training" provided to Torres represent a net subtraction from his ability to make reasoned, appropriate decisions, given that non-police witnesses on the scene clearly and accurately perceived that Siler did not pose a lethal threat.
Siler, who was wanted on a probation warrant in a domestic violence case, was pursued by Torres into a garage. According to the official police account following the shooting, Siler "brandished a weapon," thereby forcing Torres to fire in self-defense. Torres later claimed that he thought Siler had threatened him with a pipe. In another version of the story, Siler supposedly wielded a metal jack handle. In yet another account, Siler supposedly pulled a knife. Eyewitnesses testified that the victim briefly lifted the jack, then dropped it and grabbed a bucket.
Torres gunned down Siler on his first day back on patrol after a vacation given to him following a previous fatal shooting in another residential garage ten days earlier. In that incident, Torres was one of two Kenosha PD officers who responded to a 911 call from a distraught woman saying that her 64-year-old husband had gone into the garage to kill himself. Within a few minutes of arriving on the scene, Torres had fatally shot the man, who was holding two knives.
That victim was a Vietnam veteran who suffered from lingering psychological trauma.
"I was screaming 'my husband is a veteran. Don't hurt my husband,'" the widow later recalled. "They know he had a mental problem. He was not out to hurt them — only himself."
During his brief paid furlough following that shooting, Torres was provided with supplemental use-of-force training. That enhancement did nothing to improve the quality of his decision-making skills. It did, however, reinforce his claim to "qualified immunity" after he killed Aaron Siler.
For Siler's family, the trauma of losing a loved one was compounded when the Kenosha Professional Police Association -- the local police union -- selected Torres to represent them in a billboard prominently displayed at a busy intersection expressing thanks to the community for their support. Given the public controversy over Torres's mini-killing spree, that selection can reasonably be seen as a gesture of contempt toward the families of the victims, and other critics of the department.
Kathy Willie, a friend of Siler's mother, Lisa Toppi, told Milwaukee's Fox affiliate that "I felt like they were saying thank you for killing Aaron."
Willie had the disagreeable task of telling Siler's mother about the display.
"She just starts sobbing. You know, why are they doing this to us?" Willie recalled.
Prior to the back-to-back killings within a ten-day period, Torres had been the subject of eight excessive force complaints and seven administrative reprimands. None of the citizen complaints, predictably, were sustained. One of the complaints was filed by a woman named Kimberly Hollis, who was briefly detained and then assaulted by Torres outside a local bar.
"It turned my stomach because the first gentleman he shot was my old neighbor, so I knew him and his wife personally," Hollis said in a media interview. "And then to find out he killed Aaron touched my heart because Aaron actually mowed my lawn for five years while he was growing up."
Siler's mother, Lisa Toppi, recalled in a television interview that she had one baby-sat the young boy who would grow up to kill her own son.
"Why, why did you have to kill my son?" the distraught mother asked. "Why couldn't you have just tased him?"
The brutal answer to that anguished question is: Pablo Torres killed Toppi's son because he had the means to do so, and the privileged status necessary to protect him from civil and legal consequences for his actions.