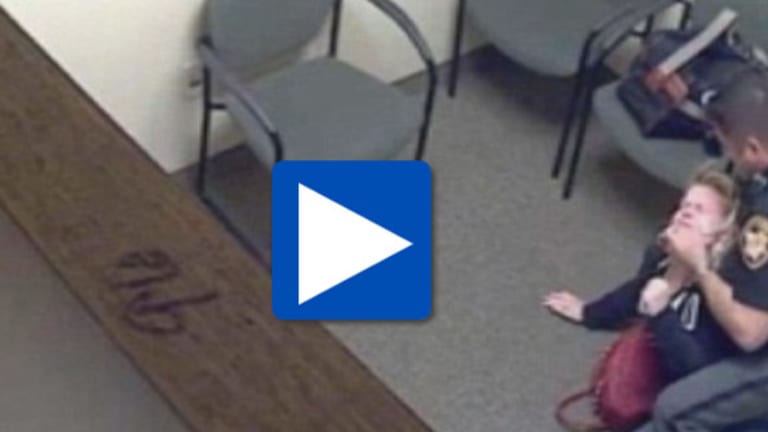 Is That A Tylenol? I'm Gonna Throw You Down and Pry Open Your Mouth to Find Out!
May 16, 2014
Shocking surveillance camera footage from a court waiting room has emerged which shows a Sheriff's Deputy over-stepping his bounds.
Siobhan Householder was injured and charged with resisting arrest after Deputy Eric Vaughan threw her to the ground and pried open her jaw.
Her alleged "crime" was taking a tylenol.
According to Ohio.com,
A surveillance camera mounted inside the room shows Deputy Eric Vaughan leaving the holding room with a jail inmate about 2:35 p.m. Householder then walks in alone with her purse, a second bag and a plastic cup of soda and takes a seat.

There is no audio with the video. The deputy and inmate soon return.

After the deputy was there about two minutes, Householder said she took two Tylenol pills along with a sip of soda. She was taking a third when the deputy confronted her, she said.

"He said, 'What are you taking?' and I said, Tylenol," she recalled. "And he said, 'Spit it out' and I said, 'I can't.' I meant to say I can't spit it out because I had already swallowed the other pills.

"But I didn't even get that part out before he just yanked me up and threw me down on the ground and was trying to dig these pills out of mouth.

"And there was one [pill] in there and I couldn't even get it out because he kept shoving his hand in my mouth and squeezing my face and pulling my hair at the same time."
Householder said she was left with bruises to her legs and face as well as cuts inside her mouth from deputies forcefully trying to retrieve a pill that she had already swallowed.
Apparently these deputies felt that they have some type of authority over the inside of this woman's body.

Householder was treated by paramedics and released from the ER with summonses on charges of resisting arrest and obstructing official business.
Apparently, one is supposed to lie down on the ground, calmly, and allow cops to shove their fingers down one's throat; maybe even sneak in the courtesy of a boot licking too, as not to be charged with "resisting."