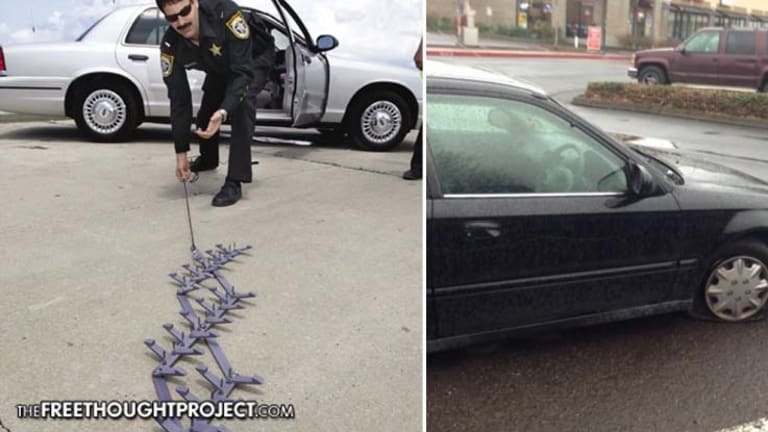 Cop's Typo Leads to Innocent Woman's Car Crashed with a Spike Strip, Police Holding Her at Gunpoint
A police officer's typo led to an innocent being assaulted with a deadly weapon and her life endangered as her car was thrown off the road by a spike strip.
Portland, OR -- Sophia Holmes had done nothing wrong, committed no traffic violation and was simply on her way home when police popped her tires with a spike strip, sending her crashing off the road. She was then pulled from the vehicle, forced to the ground and held at gunpoint -- all because a cop made a typo.
Last week, Portland's city council approved a $10,000 payout to settle a lawsuit brought against the police department by Holmes. On January 10, of this year, Holmes was driving home when she crossed paths with Officer Christopher Gjovik who was patrolling the area Holmes drove through every day to get home.
For an unknown reason, Gjovik ran Holmes' plates. But, when he typed in the numbers into his unit's computer -- he entered them incorrectly. The car came back as stolen, according to the lawsuit. Gjovik then radioed in for backup and all hell broke loose.
"After falsely reporting that the plaintiff was operating a stolen motor vehicle, Officer David Arnold deployed spike strips as the plaintiff's vehicle passed his location,'' the suit said.
According to the lawsuit, Holmes alleged false arrest, reckless endangerment, and negligence. After mediation, Holmes's lawyer said her client is satisfied with the settlement.
Holmes had been on her way home from work when her front tires suddenly were flattened and her Honda veered onto the shoulder, reports Oregon Live. She was then ordered out of the car in a felony stop, placed on the ground and detained, her lawyer Josephine Townsend wrote in the suit.
Even though police acknowledged their mistake led to the assault of an innocent woman, they tried to assert that "its make, model and license plate number closely resembled a car on the 'hot sheet' of stolen vehicles.''
So what? The vehicle was not stolen and a woman's life was deliberately endangered because police wrongly believed that fact.
"This incident was clearly a mistake on the part of the officers. While they may have had good intentions, the results were damaging to Ms. Holmes, a completely innocent driver on her way home from work,'' Townsend said. "We are hopeful that training and better communications between officers engaged in critical situations will reduce or eliminate these types of events from occurring in the future.''
Sadly enough, police misreading license plates and endangering the lives of others because of it, is not uncommon. Last October, the Free Thought project reported on a dashcam video showing officers from the Fairfield Police Department open firing on a vehicle after a pursuit that should not have even taken place.
Fortunately, Dakota Murray, 19, and his passenger were not hit by police bullets as they were sitting in their car, stuck in a ditch. The teenagers were the victims of a cop's mistake, who misread Murray's license plate and attempted to stop the vehicle.
Unsurprisingly, Fairfax police spokesman Colin Smith says there was nothing wrong with the actions of the officers. The video makes it hard to believe that these officers "feared for their lives."
[author title="" image="https://tftpstagingstg.wpengine.com/wp-content/uploads/2016/03/magorist-e1456948757204.jpg"]Matt Agorist is an honorably discharged veteran of the USMC and former intelligence operator directly tasked by the NSA. This prior experience gives him unique insight into the world of government corruption and the American police state. Agorist has been an independent journalist for over a decade and has been featured on mainstream networks around the world. Follow @MattAgorist on Twitter and now on Steemit[/author]