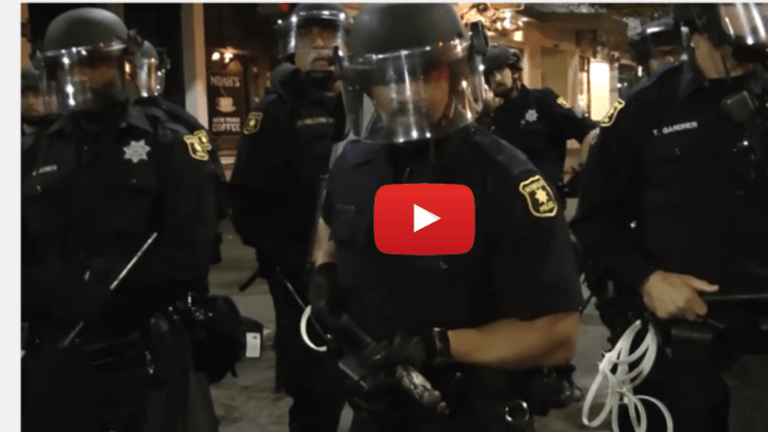 This is What Tyranny Looks Like: A Protest of Police Brutality Met with Disgusting Police Brutality
Berkeley, CA -- A Jaw dropping video from a UC Berkely protest was posted to YouTube Sunday which illustrates the disturbing reality that is, Police State USA.
The video starts out with police pushing and beating women and men indiscriminately, eventually corralling them in a small area, using a tactic known as kettling. The students are completely trapped by police and yet the cops keep telling them to move and shove them closer.
The students yelled, "Where do you want us to go? There is no where to go!" as the jackboots stomped and compressed them even tighter.
Eventually the video jumps to more police officers, and the brutality continues. The riot police "hold the line" while waylaying peaceful protesters. Some of the cops even laugh at the people as they threaten baton blows. It is truly one of the most disturbing scenes to come out of the recent protests to police violence.
Below is this disturbing video which should serve as a wake up call to all.
From the YoutTube description: Police continue to assault peaceful demonstrators while corporate news media censors the violence. At 5PM on 12/6/14, hundreds of UC Berkeley students and Berkeley residents began a peaceful march from Sproul Plaza to the Berkeley Marina to protest the deaths of Michael Brown, Eric Garner, Tamir Rice, and countless other brown and black youth at the hands of police. Along the way, police set up barricades and fired rubber bullets and smoke bombs, shattering one student's knee and causing another student to have a seizure. The injured were not allowed to seek medical attention and were instead corralled by riot police. The group eventually made its way back to Sproul Plaza, where students were once again kettled around the Bancroft/Telegraph area. This video begins with riot police forcing students south down Telegraph, which only caused more Cal, Berkeley High, and City College students to join the struggle. The demonstrators were pushed all the way down Telegraph by waves of tear gas until they reached the border of Oakland, where the riot police finally dissipated. This is a sample of what we were able to capture on two cameras - there's a lot we were unable to film. Please share this video!