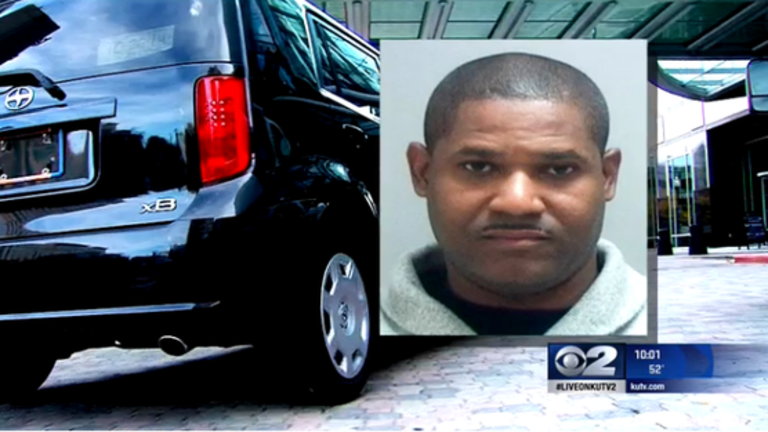 Uber Driver had Passenger Who Was a Cop, Put a Gun to His Head and Threatened to Kill Him
"These are the individuals that we look up to for protection," said Uber driver James Brothers, of the irony that the man who was sworn to defend justice, pulled a gun on him.

Salt Lake City, UT -- Uber driver James Brothers was on a normal downtown pickup last week when one of his passengers put a gun to his head and asked him if he wanted to die.
Turns out that the man responsible for allegedly assaulting Brothers with a deadly weapon was a cop.
"Do you want to live or die?" said federal police officer with the Bureau of Indian Affairs (BIA), Byron McDonald as he allegedly brandished a pistol and placed it to his driver's head.
According to KUTV,
Brothers said he picked up McDonald and three other people from a downtown Salt Lake bar that night, after they called for a lift. He says he dropped off three passengers first, then drove McDonald to his hotel as he had a disagreement with one of the other passengers. Right after he pulled into the hotel entrance, Brothers said McDonald looked at him and said, "Do you want to live or die?" At first, Brothers said he thought it was a joke because McDonald appeared drunk. Then his passenger asked him the question again and pulled out a gun and pointed it at his head. Brothers said he tried to run but McDonald grabbed him by the collar and pulled him so hard he ripped his shirt and jacket and left scratch marks. Brothers pulled away, ran out of the car and called 911.
McDonald was arrested after the incident in a hotel on Oct 20 and a day later charged with aggravated assault, a third degree felony.  Nedra Darling, spokesperson for the Department of the Interior which oversees BIA, said McDonald was on "official travel at the time of the incident."
The BIA assures us that they are investigating the incident and will determine was steps to take next.
Not surpisingly, cops pulling guns on people is a fairly common occurrence.
In August we brought you the story of the off-duty LAPD cop brandishing a gun while driving down the freeway.
In May a road raging ATF agent pulled a gun on a motorist. 
In April another cop pulled a gun in a another fit of road rage and faced very little punishment. 
And we certainly can't leave out the story of the off-duty detective who shoved a gun in a teen's face in a McDonald's Drive-thru, for taking too long.
Are you starting to see a pattern here? And these are just the off-duty ones.