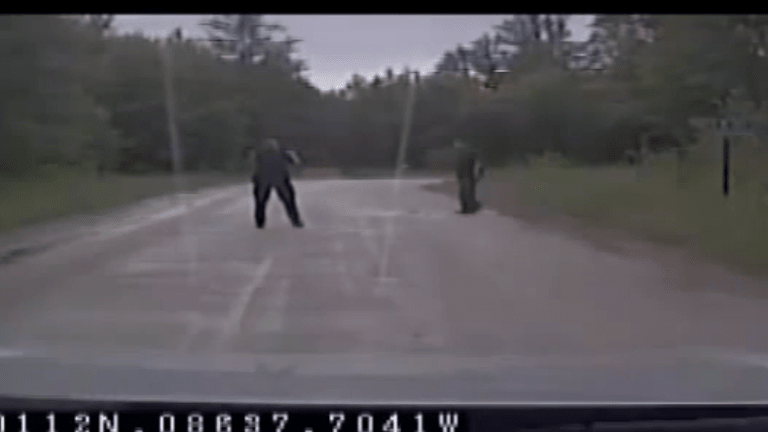 Cop Shoots Unarmed Man on Video. Cleared of Any Wrongdoing
Marquette County, Mich. - The family of an unarmed man who was gunned down by an officer on July 14 of this year plans to sue in federal court after prosecutors cleared the officer of any wrong doing.
The circumstances surrounding the shooting are extremely troubling. Auto mechanic Timothy Mitchell, 46, had gotten into a verbal dispute at an area auto dealership. A call was placed to 9-1-1 alleging that he was highly intoxicated.
A police chase ensued but was broken off due to high speeds. At a later point the officer saw Mitchell's vehicle crashed on the roadside with Mitchell standing nearby.
The officer, Justin Schlabach, had a dashcam on his vehicle that was operational at the time, but allegedly his walk around microphone was not working at the time.
The video captured on the dashcam shows Schlabach get out his vehicle with his weapon drawn and pointed at Mitchell. The officer claims that he told Mitchell to get on the ground multiple times.
An unarmed Mitchell walks towards the officer in a seemingly non-threatening manner. It is at this point Schlabach takes a few steps back before shooting and killing Mitchell.
Schlabach claimed that Mitchell told him as he approached that the officer was going to have to kill him. Interesting to note that Schlabach's audio recording device was not functioning to record any of this alleged interaction between the two.
The prosecutor of Marquette County, Matt Weise, declined to prosecute the officer. Weise claims Schlabach was in the right when he took Mitchell's life stating,
"Is this man who just committed a number of felonies serious about saying I'm going to have to shoot him? Because he's so desperate that he's willing to let me shoot him rather than be apprehended."
Even if Mitchell did tell the officer he would have to kill him, what justification is that for an officer to shoot and kill an unarmed man. Are officers trained so poorly that this is their only option when an unarmed person says you will have to kill them?
There was no attempt by the officer to de-escalate the situation or to utilize the proper force continuum for an unarmed subject.
In regards to the prosecutor's statements regarding committing serious felonies, these felonies would simply be criminal driving violations. To make statements about serious felonies in an attempt to poison the well against Mitchell rings hollow.
Mitchell's parents, Ronald and Cheryle Mitchell, whom he lived with, are dismayed and disgusted at the events that have transpired.
"I think this needs to be relooked at again and I agree with my wife that ... I feel he murdered my son. That's my belief," said Ronald.

"(Schlabach) should go to prison," said Cheryle.
Prestigious attorney Geoffrey Fieger, who has been retained by the Mitchells in this case stated,
"This is 100 times worse than anything that's been alleged in Ferguson. This is an unarmed man, who is clearly unarmed, who is simply walking toward a police officer, who is gunned down in cold blood."
How an unarmed man can be gunned down in the street by an officer and be cleared of any wrongdoing is extremely troubling and a testament to the lack of accountability for law enforcement. Schlabach is back on the beat but is no longer allowed to patrol alone and is required to have a partner when on patrol.
The rubber stamping of this killing by the prosecutor shows the system is once again not invested in justice, but only in protecting their own.
Jay Syrmopoulos is an investigative journalist, freethinker, researcher, and ardent opponent of authoritarianism. He is currently a graduate student at University of Denver pursuing a masters in Global Affairs. Jay's work has previously been published on BenSwann.com and WeAreChange.org. You can follow him on Twitter @sirmetropolis and on Facebook at Sir Metropolis.