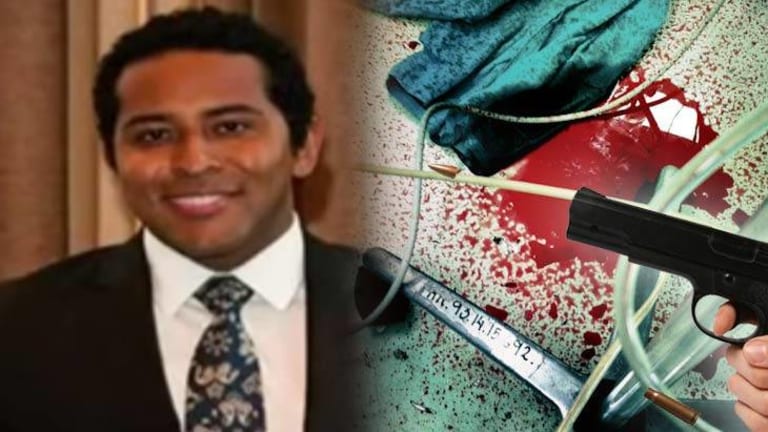 Unarmed Man Shot in his Hospital Room By a Cop After Checking Himself in for Mental Health Help
"He went to the hospital where he thought he was going to get appropriate care, instead he got a bullet to the chest."
I suppose it is tempting, if the only tool you have is a hammer, to treat everything as if it were a nail.
- Abraham Maslow, The Psychology of Science, 1966
Houston, TX -- Last week, University of Houston medical student, Alan Pean, 26, was seeking help for a mental health issue. However, after encountering two off-duty police officers who were working security at St. Joseph Medical Center, Pean would receive the opposite of 'help.'
"My brother went to the hospital as a patient and now is treated like a criminal," said Christian Pean, Alan's brother.
According to police, Pean had become "combative" in his hospital room. Officers then escalated violence first by hitting Pean with a taser and then resorting to shooting the unarmed man in the chest in the midst of his mental health crisis.
"He deployed the Taser, but it apparently had no effect on the patient," said Kese Smith, a Houston Police Department spokesman. "He continued to struggle and injured the officers. That's when his partner discharged his duty weapon, striking the suspect."
"The bullet just missed his vital organs, coming out his back," Christian Pean said. "I was preparing myself for the fact that I was traveling to Houston to bury my brother."
According to police, the officer was forced to fire. Apparently walking away was not an option. It's a good thing these cops weren't doctors. If doctors resorted to shooting every mentally ill patient who became combative, there'd be no need for mental hospitals.
"I was shocked. I was outraged. I was grief-stricken," Christian Pean said. "We have lots of questions as to why there were lethal weapons in a hospital."
Since the shooting, which happened on Thursday, the family has hired attorney Mark O'Mara to help answer some questions.
In a statement O'Mara said:
"Alan has been charged with two counts of aggravated assault on a peace officer, and I will be working with the family to navigate through this difficult matter. Please keep Alan and the two officers who were also injured in your prayers. There is no doubt that these were extraordinary circumstances and that Alan was experiencing a severe mental health episode at the time of the event. In the meantime, we will be investigating how this tragedy could have occurred and how it could have been avoided."
"He went to the hospital where he thought he was going to get appropriate care. Instead, he got a bullet to the chest," Christian Pean said.
While Pean recovers from the hole in his chest, his bond has been set at $60,000.
It is important to note that had Pean become "combative" without police being there, that this incident could have likely been resolved without excessive violence or arrests.