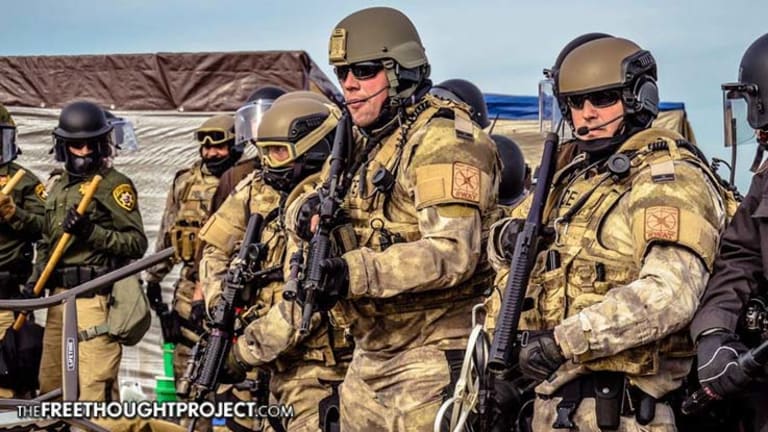 Uncovered Emails Raise Suspicions of Oil Company Paying Police for DAPL Crackdown
The emails call for further investigation, as the company CEO already offered to reimburse police departments for their militarized protection services.
December 5 will be a fateful day in the saga of the Dakota Access Pipeline (DAPL) protests, as the Army Corps of Engineers announced they will close all lands north of the Cannonball River, which includes the Oceti Sakowin protest camp.
We can expect that the camp will be forcibly cleared and protesters evicted by the same militarized police forces – and possibly National Guard – that have been acting as protection services for Energy Transfer Partners, the company behind DAPL.
What makes this even more concerning is that veterans, possibly numbering in the hundreds, have committed to join the protests on Dec. 5-7 to stop DAPL and defend water protectors. They are organizing "like a military unit" and say they are prepared to take a bullet, rubber or otherwise.
The gathering of militarized police forces protecting the 1,172-mile-long, 30" diameter oil pipeline is not just from North Dakota, but includes at least six other states -- Wisconsin, Indiana, South Dakota, Minnesota, Wyoming, and Nebraska. This multi-state force is only possible by abusing a law meant to aid states in times of natural disaster.
It's costing millions of dollars to deploy of all these cops, complete with riot gear, armored vehicles and LRAD cannons, against peaceful Native American protesters.
This peculiar situation begs the question: how are all these expensive deployments being paid for?
It appears that at least some police departments are expecting to get reimbursed by the oil company, which would make them nothing more than mercenaries.
Unicorn Riot has obtained emails from the North Dakota Department of Corrections and Rehabilitation, which call for an investigation into the money trail enabling the militarized police crackdown at DAPL. One email from the Stutsman County Sheriff's Department, which lends their MRAP armored vehicles for use by SWAT teams, states the following:
"I'll ultimately be paid by the oil people dealing with the protests. I'm guessing when all of that is finally over and the dust settles, the oil company is going to want all the paperwork for reimbursement. I figured I should have some formal form instead of writing hours on a napkin (smiley face). Thanks." – Tyler Falk"
Unicorn Riot notes there is no direct evidence of Energy Transfer Partners or other private companies actually paying police departments, and a spokesperson for the North Dakota Department of Emergency Services stated, "ETP [Energy Transfer Partners] has not provided funding to any law enforcement agency or state agencies."
However, an interview with the CEO of Energy Transfer Partners earlier this month raises even more suspicion in light of the emails. CBS reporter Mark Alpert stated the following from an interview with CEO Kelsy Warren:
"Warren told us the company wants to reimburse the state of North Dakota and Morton County for millions spent so far for protests and security, but that authorities have not yet accepted his offer."
The governor's office has denied receiving an offer from ETP, but the Morton County Sheriff's Department said, "We have heard there has been an informal verbal offer, however Morton County has not responded to Energy Transfer."
When pressed about the "informal offer," the sheriff said that's just "what we heard while watching the CBS program."
All of this calls for further investigation into every penny of funding going into the militarized police crackdown at DAPL, which has inflicted serious injuries on protesters and arrested more than 400 people. As Unicorn Riot notes, the uncovered emails reveal that at least some of the cops indeed view themselves as mercenaries for a private oil company.
In the interview, CEO Warren was absolutely sure their pipeline will be completed, even though the Corps of Engineers has delayed granting the easement to build under Lake Oahe. the drinking water source for the Standing Rock Sioux.
"They will not stop our project. That's naive. They're not stopping our project," said Warren.
Despite already losing tens of millions of dollars due to delays caused by the protests, his oil company is willing to give the cops millions more for their services in brutalizing and rounding up protesters.