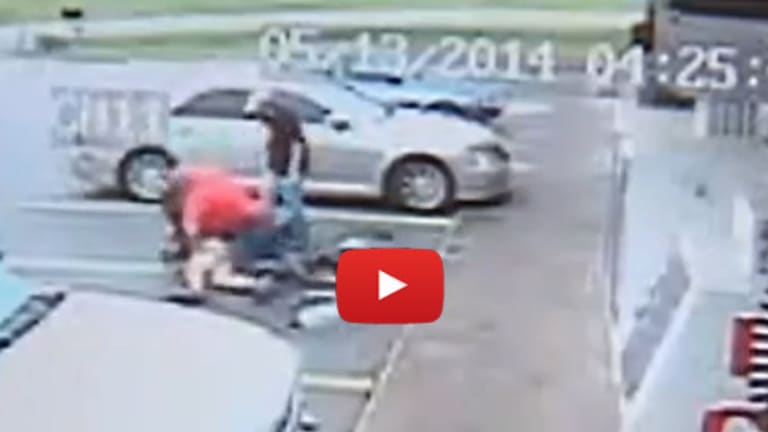 Undercover Arkansas Cops Caught on Camera Brutalizing Man at Gas Station
"They got out and they started hollering my name, and they had guns and I took off running, next thing I know I was getting hit in the head."
Matt Agorist
August 7, 2014
Martin Mcclain claims that he was at a local gas station trying to obtain money for a job he did for a friend when plainclothes men ran up to him yelling his name, with guns out.
Mcclain then did what any human being in his position would have done when faced with unknown assailants charging at them with guns, he ran.
The men in plainclothes were actually Pulaski County sheriff's deputies. When they caught Mcclain, they proceeded to give him a brutal beating.
The beating was caught on the Come-N-Git-It's security camera system. The footage is below.
According to a sheriff's office report Mcclain was arrested for drugs after deputies found marijuana, meth, and ecstasy. However Mcclain claims that he didn't have anything on him at the time.
The report claims that McClain had thrown a piece of paper containing 2 grams of weed, 2 grams of meth, and 3 MDMA pills onto the roof of the gas station, however, this is not apparent in the video.
This surveillance camera footage was submitted to The Free Thought Project by an anonymous youtube account several weeks ago. However, the video was quickly removed from youtube citing that the content was "designed to harass, bully or threaten."
Now weeks later, it has been released to the local news media. What exactly were they trying to hide?
Deputy Adam Robertson claims to have been punched in the face by Mcclain in his police report, yet the security footage does not show this.

The sheriff's office stated that they have investigated the use of excessive force and suspended two of the deputies without pay. Officer Robertson was suspended for 16 hours, and Officer Breaux was suspended for 40 hours.However, Mcclain would like to see more punitive action taken.

I lost a job, a lot of work, money, my character, my back. I've got three bulging discs in my back right now, I'm seeing a specialist. I mean they should have to pay for my doctor's bills, pay for everything I've lost, and those guys, they need to lose their jobs," says Mcclain.

Mcclain has hired a lawyer, David Lewis, who is pushing for criminal charges against the two deputies, who have since returned to their normal jobs.

"I want these guys to be arrested and convicted of battery, crimes. And then, if we are not satisfied with what happens there, we are going to sue them," said Lewis.

According to FOX 16 News, Lewis says this is not the only case he is working against the Pulaski County sheriff's department.