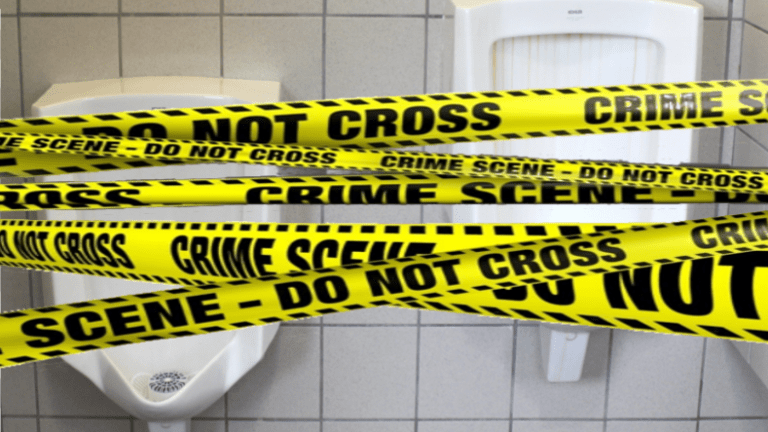 "Bathroom Cops" Arresting Men in Public Bathrooms After "Shaking Off" When Done Urinating
A string of recent complaints filed by alleged victims of wrongful arrest are bringing question to NYPD practices of arresting men in public restrooms. There are currently undercover cops posted up in public restrooms across New York City, waiting to catch sexual predators in the act.
However, according to dozens of alleged victims, average men are becoming entrapped by these undercover agents, when they have done nothing wrong. Many of the victims have claimed that after urinating, "shaking off" and zipping up their pants, they were accused of "simulating masturbation" in view of the police officer.
The New York Times recently reported that police have been standing in public restrooms and staring down everyone who passes through, while they use the urinals. If the person makes any movements that the officer does not approve of, they can be arrested for "lewdness" with no evidence aside from the testimony of the officer. Since police have been stationed in public bathrooms, lewdness arrests have increased 7-fold. In the past year alone, over 60 people were arrested in one bus terminal restroom, many of them for alleged "lewdness" in the bathroom stall.
Dozens of the people who have been arrested in this trap have sought legal representation from The Legal Aid Society and other independent sources. Many of these people reported that the police made them feel uncomfortable by staring at them while they used the restroom, and it seems that if anyone is guilty of lewdness it was actually the undercover officer.
It is not clear why undercover agents have been placed in these bathrooms to begin with, even Capt. John Fitzpatrick, the Port Authority police commander who oversees the bus terminal, admits that complaints of lewdness in public bathrooms are "few and far in between".
Although, Fitzpatrick is still standing by the actions of his officers, claiming that the dozens of men who have now filed complaints were in fact being lewd in the restroom, otherwise, he says, they would not have been arrested.
"They are not sidling up to somebody, trying to sneak a peek and misrepresenting what the person is doing, there is no mistaking their behavior," he said.
One man, accused of "simulating masturbation" says that he was simply "shaking off", a near instinctual act that is not at all lewd or uncommon.
"I wasn't committing a lewd act, I was peeing in the beginning, but I was shaking off when the guy stepped back and looked at me," Mr. Holden, a 28-year-old baker, said of his police encounter.
After Holden walked out of the bathroom he was arrested by police and taken to jail. When Holden was being processed in the jail he overheard one of the other cops refer to his arresting officer as "the gay whisperer". This was a fairly offensive comment for Holden, consider the fact that he is a gay man, and feels that may be the reason why he got arrested.
"I wore a leather jacket, fitted clothes. I guess that fits the description of a homosexual male, I was like, O.K., although I'm gay, I wasn't doing anything," he said.
Holden's story is just one of dozens, and although there may be a few perverts in the bunch, it is safe to say that a vast majority of these people are innocent.
John Vibes is an author, researcher and investigative journalist who takes a special interest in the counter culture and the drug war. In addition to his writing and activist work he is also the owner of a successful music promotion company. In 2013, he became one of the organizers of the Free Your Mind Conference, which features top caliber speakers and whistle-blowers from all over the world. You can contact him and stay connected to his work at his Facebook page. You can find his 65 chapter Book entitled "Alchemy of the Timeless Renaissance" at bookpatch.com.