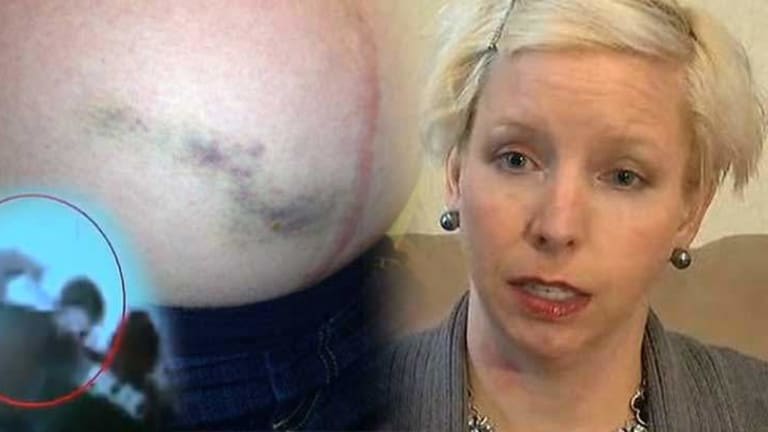 Officer Investigated After Video Shows Him Beating a 9-Month Pregnant Woman
Since the video has begun to go viral, the department has been forced to investigate this officer after they were flooded with calls demanding them to do so.
Quinlan, TX-- New details are emerging about the horrifying video we reported on Monday showing a 38-week pregnant woman being viciously assaulted by a Hunt County Sheriff deputy.
Since the video of the March 4th incident has gone viral, the woman has been identified as Deanna Robinson, a 38-year-old decorated Air Force Veteran who once received the Airman's Medal- the highest honor in the Air Force, after she helped drag soldiers from a burning plane in Iraq.
On March 1, Robinson reportedly got into a shoving match with her husband as she was holding her 18-month-old son, Landry. Upset over the incident, she took her young child and went to stay at her parents house. The following day, one of her three step-children, a 9-year-old who is bound to a wheelchair due to cerebral palsy, told his teacher about the incident. The teacher proceeded to call Child Protective Services.
The day before the police assault, the three step children were removed from their home. The next day she would receive a call stating that they would be conducting a welfare check on her baby, Landry. That evening, CPS, accompanied by the Sheriffs Department, would turn Robinson's world upside down.
After banging on the door to Robinson's parent's home, the officers stated that they were there to remove her son from her care. She informed them that nobody was taking her child without a court order or warrant. As she attempted to close the door, the officers plowed through.
"I'm positioning myself in front of my child as the officers are screaming, 'There's the kid. Grab him,'" Robinson told WFAA.
Robinson's mother was holding Landry, as the 18-month-old witnessed his mother being hurt and abused by the officers. She was pushed up against the counter hard enough to leave serious bruising on her third trimester belly, and punched at least twice with closed fists as seen in the video that was captured by her mother's security camera, which records roughly 30 seconds of footage at random intervals. Robinson claims that the officer continued to strike her after the camera stopped rolling, and that she was hit at least four or five times in her lower back.
Warning, this video contains violence and strong language:
" width="790" height="444" frameborder="0" allowfullscreen="allowfullscreen">
Following the assault, she was taken to jail and charged with resisting arrest, assault on a public servant, and interference with child custody. Robinson maintains that she was only struggling with the officers to relieve pressure from the counter off of her belly to protect her unborn child.
The expecting mother was subsequently held in jail for six days while being denied proper medical treatment. Upon her release, she went to her Ob-Gyn who took photos of the injuries to her belly and legs, which were still visible 8 days later. They were able to verify that the bruising was not present before the attack as she had visited her doctor the day before the incident.
Her son Levi was born on March 15, and was placed in the care of her parents. Robinson has only been allowed to see her newborn son for two hours a day.
After being inundated with calls and posts to the department's Facebook page, the department has announced that the deputy is under investigation.