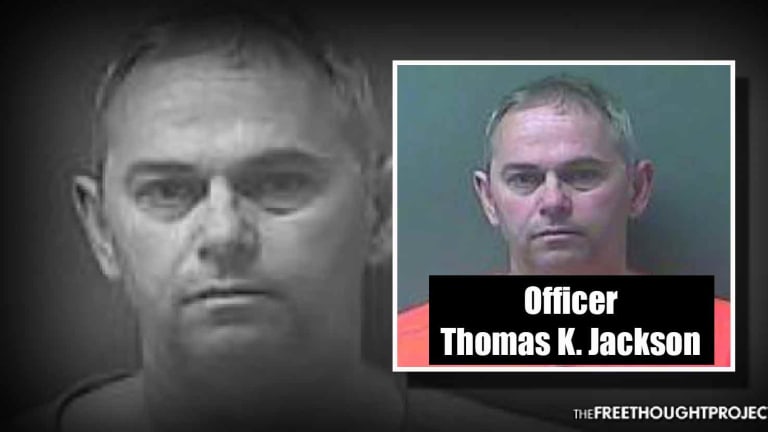 "We Never Imagined": Cop Charged With Raping Mentally Challenged Woman
A veteran Michigan City Indiana cop was arrested, charged and locked in jail for allegedly raping a mentally challenged woman.
La Porte County, MI — An Ex-Michigan City police officer has been charged with the rape of a mentally challenged La Porte County woman. Thomas K. Jackson was arrested Tuesday at Trail Creek near his home. The former police officer didn't put up a fight and may have even known the arrest was coming. He resigned March 14th, for unknown reasons but which may have been connected to the ongoing investigation.
According to reports, The Michigan City police chief asked La Porte County Sheriff's Office to conduct the investigation to avoid any suspicion of a conflict of interest. Investigators charged Jackson with four counts of rape.
Although he was a veteran police officer with the department, the Michigan City PD told reporters Jackson's alleged rapes happened when he was not on duty. "He always seemed like a good guy, but he was always very flirtatious. We knew something wasn't quite right, but we never imagined he could do something like this," said Shelly Yanke, an acquaintance of Jackson.
The victim is in her 20's with "such diminished mental capabilities that she's unable to consent to sexual activity," according to Chicago's ABC News 7. Citizens of the Northeast Indiana town are concerned. "From what I read on Facebook it was like he was in a relationship with somebody that supposedly wasn't mentally capable of consenting....I don't know, you can't really trust anything nowadays," resident Frank Taffe said.
Jackson, who was arraigned Tuesday, is being held on 25,000 cash bond and must present the entire amount to be released while awaiting trial. It's unclear what led investigators to suspect the career officer and eventually make the arrest.
Over the years, The Free Thought Project has been diligent in bringing stories like Jackson's to our readers. There's an undercurrent in America which seems to elevate police officers, and their service to society, above the contributions of other members of society, even granting special privileges to officers which the rest of us do not afford.
Just last week, for example, Arizona Gov. Doug Ducey signed into law a measure to provide stiffer penalties for citizens who assault an off-duty police officer.
Equally disturbing is the abuse without impunity officers are doling out on citizens when being arrested. We routinely document the civil rights abuses, violations, beatings, assaults and even deaths perpetrated by police on average law abiding citizens. The days of believing the police can do no wrong are over. The FBI, in 2017, will begin to document officer involved shootings nationwide and we will continue to bring awareness to crimes committed against citizens by police.
At no time should mentally challenged individuals be subject to sexual violations by officers of the law. As we have stated in past articles, more training needs to be offered.
No one should be able to become a police officer by taking a summer academy course. No officer should be allowed to receive a salary if they're suspected of a crime. No officer should be allowed to continue wearing a badge if they've been fired from other police departments. No officer should be afforded an internal investigation, to be conducted by their own department when accused of crimes. These steps and much more can be taken to ensure the safety of our citizens, especially our most vulnerable.