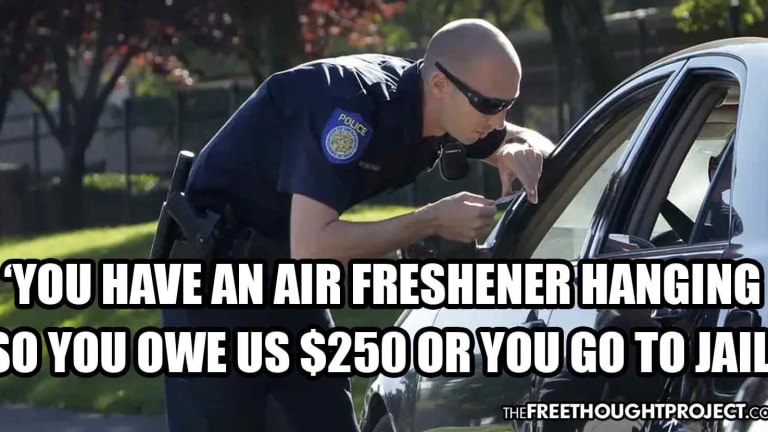 Citizens and Police Now Safer as Cops Told to Stop Pulling People Over for Victimless Crimes
Minneapolis has directed police to stop pulling people over for victimless traffic offenses like air fresheners, creating a safer environment for both cops and citizens.
Of the 1,127 people killed by police in 2020, only 277 of them were suspected of a violent offense. The majority, 658 were suspected of a non-violent offense or no crime at all, while another 121 were killed over a traffic violation. While 121 people were killed over traffic violations, millions of others are extorted, arrested, caged, and beaten for traffic "offenses" which have no victim — like no seat belt, dark window tint, and even something as trivial as having an air freshener hanging from their rear view mirror.
Traffic stops in the land of the free, are a means of bolstering the prison industrial complex by extracting revenue from those who can pay and incarcerating others who cannot. When someone attempts to resist being forced to pay, they are beaten, imprisoned and killed.
The list of folks killed over traffic stops is as long as it is infuriating which is why Minneapolis is taking a proactive step to stop them. The effects of such a move will be massive.
According to a city news release, Mayor Frey and Police Chief Medaria Arradondo "have finalized another series of reforms in ongoing efforts to create a more just and accountable system of community safety. Effective today (August 13, 2021), Minneapolis Police Officers will no longer be conducting pretextual stops for offenses like expired tabs, an item dangling from a mirror, or an expired license."
"Our team has been working with community and the MPD on reforms to traffic enforcement," the mayor wrote in a tweet. "We will soon end stops solely for offenses like expired tabs or items dangling from a mirror. Another concrete change moving us in the right direction."
According to a spokesperson for the mayor's office, the policy has already begun though detailed language of how it will move forward is still being discussed.
Eliminating the traffic stops which endanger both police officers and the citizens targeted for extortion will foster an environment with less animosity between the police and the policed. It will also make both groups far safer as cops will no longer have to be in danger on the roadsides and citizens won't be shot or beaten over their window tint.
"At this time, the less contact that people have with the police, the safer the community will be," said Trahern Crews, co-founder and lead organizer of Black Lives Matter Minnesota. "If Minneapolis takes these bold steps, we can be a model for the rest of the country."
While most everyone in America commits these same traffic infractions designed for revenue collection instead of safety, it has been proven time and again that most of the people targeted by police for these stops are the poor and minorities. Often times, officers treat these stops as gateways to fish for drug activity or other victimless crimes. While ending the drug war and the enforcement of all victimless crimes would have a much more profound effect, this is a good start.
As the 2014 death of Mike Brown in Ferguson exposed, in 2013, African-Americans accounted for 86 percent of traffic stops, while making up only 63 percent of Ferguson's population.
For those too poor to pay their tickets, routine traffic stops end up in repeated imprisonment due to mounting fines. Cities across the country are running a de facto debtors' prison this way.
When cops aren't routinely extorting and locking people up for petty traffic offenses, they are killing them.
Walter Scott was pulled over for a broken taillight. Scott—unarmed—ran away from the police officer, who pursued and shot him from behind, first with a Taser, then with a gun. Scott was struck five times, "three times in the back, once in the upper buttocks and once in the ear — with at least one bullet entering his heart."
Samuel Dubose, also unarmed, was pulled over for a missing front license plate. He was shot in the head after a brief struggle in which his car began rolling forward.
Levar Jones was stopped for a seat belt offense, just as he was getting out of his car to enter a convenience store. Directed to show his license, Jones leaned into his car to get his wallet, only to be shot four times by the "fearful" officer. Jones was also unarmed, and it was later revealed that he was actually wearing his seat belt.
Bobby Canipe was pulled over for having an expired registration. When the 70-year-old reached into the back of his truck for his walking cane, the officer fired several shots at him, hitting him once in the abdomen.
Traffic stops aren't always in cars either.
Dontrell Stevens was stopped "for not bicycling properly." The officer pursuing him "thought the way Stephens rode his bike was suspicious. He thought the way Stephens got off his bike was suspicious." Four seconds later, sheriff's deputy Adams Lin shot Stephens four times as he pulled out a black object from his waistband. The object was his cell phone. Stephens was unarmed.
The list goes on....and on.
Traffic revenue collection, persecution of the poor, and debtor's prisons take place in every county, in every city, across every state. This institutionalized cruelty is little more than a day's work for the millions of bureaucrats involved in the racket.
Sadly, until this system of wealth extraction is defunded or brought to a halt through radical policy changes like this move in Minneapolis or ending the drug war, cases of cops preying on the poor will continue at an ever increasing rate until the whole country is one big prison.