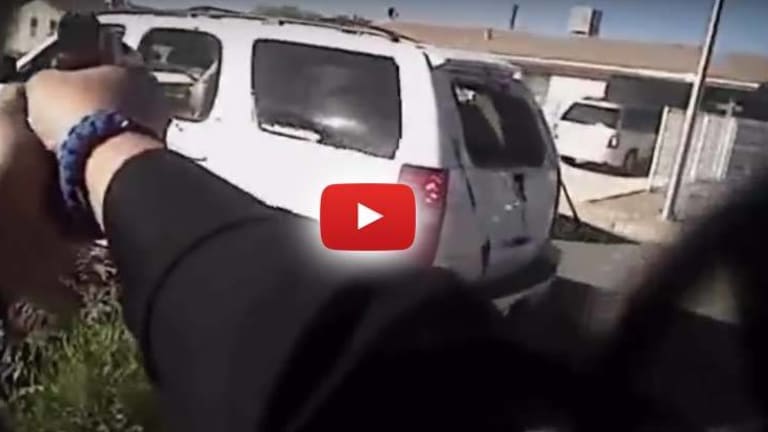 VIDEO: 10 Cops Unload Weapons on Man Because They Mistakenly Thought He Ran Over an Officer
No charges will be filed against the 20-year-old victim whose quality of life is severely affected by the shooting injuries.
Albuquerque, NM – The Albuquerque Police Department (APD) released " target="_blank">bodycam footage showing 10 officers firing at a man driving an SUV after they cornered him in a yard. The cops involved in the shooting told investigators they thought the driver, 20-year-old Rodrigo Garcia, had run over their lieutenant when, in fact, she had been knocked over by a falling fence.
48 rounds were fired at Garcia, with seven striking him, including one in the head that required part of his brain to be removed. Doctors said his injuries will severely affect the quality of his life.
Garcia, who was wanted on charges of vehicle theft, felony in possession of a firearm and drug charges, had eluded officers the day before. He tried to flee again on May 29, but was not armed and there was no indication that he tried to run over an officer.
"Investigative reports and video released Friday show that as more than 10 officers surrounded Garcia, he drove an SUV in reverse into a tree, then drove forward and crashed into both a chain link fence and a marked police car.

As he struck the fence, Albuquerque police Lt. Michelle Campbell was knocked over as it fell, and she discharged her firearm once."
This shot apparently set the cops into a frenzy, and they began unloading on the SUV even though homes can be seen behind the line of fire. As Garcia is trapped and slowly backs up, the cops unload a final volley at close range.
The video ends shortly thereafter. A SWAT team was called in, which initiated a standoff with the injured Garcia and finally threw a flash-bang grenade at him and swarmed the vehicle.
According to a police spokeswoman, no charges will be filed against Garcia due to the severity of his injuries.
Unfortunately for Garcia, the trigger-happy cops who changed his life forever committed this act just before a new policy was put in place that is intended to stop Albuquerque police from shooting into moving vehicles. The new use-of-force policy "prohibits officers from putting themselves in front of a moving vehicle and instead requires them to find cover."
The U.S. Department of Justice has criticized the APD for shooting at moving vehicles, which has a notorious record of putting occupants and bystanders in unnecessary danger. In Garcia's case, he was wanted for relatively minor charges and was not a threat to the public. By putting their own bodies in harm's way, the cops found their excuse to shoot the suspect and could have injured someone else as well.
A lawsuit being filed by attorney Joe Kennedy on behalf of Garcia and his family may uncover the truth of the matter. Could 10 officers really believe they witnessed Garcia run over another officer, when she was actually knocked over by a falling fence? Or was it just the pretext they decided to give in order to justify their shooting rampage?