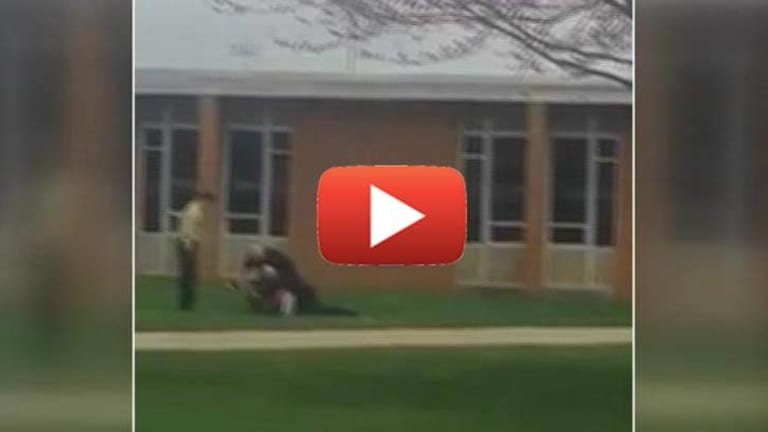 VIDEO: 16-Year-Old Student Charged with Resisting Arrest After School Cop Assaults HIM
A 16-year-old boy was assaulted and thrown to the ground Tuesday by a school resource officer whose job is to protect students.
Mentor, OH -- Mentor High School student, James Craft, 16, is facing several charges after a particularly violent altercation with a school resource officer Tuesday.
Wednesday, Craft was charged with persistent disorderly conduct, resisting arrest, and a tobacco violation.
Luckily for Craft this incident was captured on multiple cell phone videos.
According to the police report, the student was confronted by his unit principal after they saw him smoking an e-cigarette in the building, which is against school policy, as well as state law. The unit principal requested that Craft hand it over. When he refused, the school resource officer got involved. Craft also ignored Officer Ivanovics when he told him to stay where he was and give him the e-cigarette. Craft became verbally abusive and defiant, trying to push his way past the officer to get on a school bus, which was caught on a second video. The officer was then forced to physically detain and arrest him.
According to Craft, however, that is not what happened.
"The cop kept sticking his hands out and I kept trying to go around him. That's when he kept pushing, and I said, 'Quit pushing me because that's disrespectful. I'm not touching you, so quit touching me.' As I kept trying to walk away he grabbed me by my neck and slammed me," said Craft.
Craft's account of the situation is backed up by two different cell phone videos. At no time did Craft present a threat to the officer or act in a manner to warrant being slammed to the ground by this officer.
Mentor Public School officials told 19 Action News that they are looking into the matter and released this statement:
"Mentor Public Schools is investigating an incident that occurred between one of our Mentor High School students and a Mentor Police officer, who is assigned as our School Resource Officer, on school grounds on Tuesday, April 14. The officer involved will not be working at Mentor High School while the investigation is ongoing. While we cannot discuss individual cases involving our students publicly, safety and security remain our district's top priority."
As schools across the country crack down on bullying, they are ignoring the public servants whose actions are often far worse than anything another student would dish out.
We've seen children as young as 4-years-old be cuffed and shackled by school cops and hauled off to jail.
We've seen boys as young as 8-years-old with autism, assaulted, placed in a straight jacket, thrown in a jail cell and charged with assault!
Just this week, the Free Thought Project reported on the story of an 11-year-old boy with autism, who is now a convicted felon, after kicking a trashcan.
When does it end? How much worse will it get before people realize that relying on government force to solve problems is a bad idea? Will cops have to start killing children in school?
These atrocities only happen because we let them. Americans democratically consent to be harassed and brutalized on a daily basis, to keep them safe.
"If we don't do anything wrong," we're told, "we have nothing to fear." Sadly that statement couldn't be further from the truth.
It's high time we demand accountability from the other side of that blue line. There is no shortage of peaceful ways to fight back against the police state. If you are interested in seeing what you can do to incite change, visit our #Solutions link here.