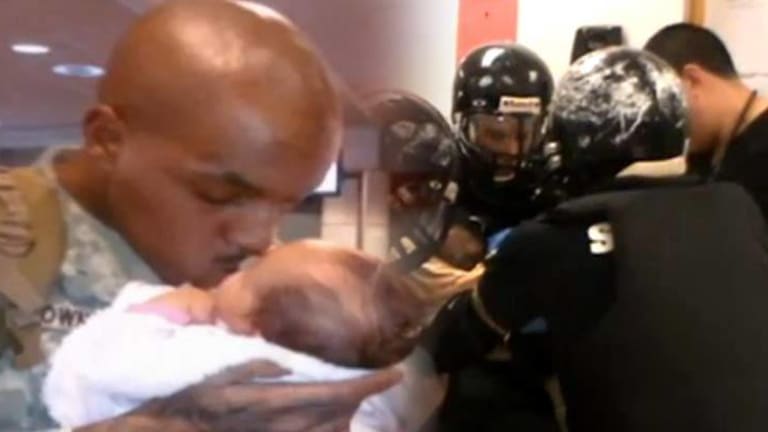 Heartbreaking Video Shows Active Duty Soldier Slowly Die as Riot Police Needlessly Assault Him
An active-duty soldier voluntarily walked into the jail to serve 2-days for a DUI, he would not walk out.
El Paso, TX-- A family is suing for damages after decorated active-duty Fort Bliss soldier James Brown self-reported to serve a two-day sentence for a DUI in July 2012, and was never seen alive again. Through a massive battle going all the way up to the Attorney General, KFOX14 finally obtained the footage of what occurred in that jail which left the 26-year-old who has served two tours in Iraq, dead.
Upon checking himself into the jail, Brown provided in writing the fact that he had been diagnosed with post-traumatic stress disorder. After checking himself in, he was informed that he would have to serve seven days instead of two, so he called his mother and asked her to send the payment in lieu of him being imprisoned. His mother paid the fine, but by the time it went through in the morning, her son had already gone through a fatal ordeal.
While in his cell, Brown began to bleed, prompting riot police dressed as storm troopers to rush into the cell and swarm upon him.
"He was bleeding out the ears, the nose, the mouth, his kidney's shut down, his blood pressure dropped to a very dangerous level, and his liver shut down," one of the family's attorney's B.J. Crow told the local Fox affiliate.
During the ordeal, Brown told his captors that he could not breathe at least twenty times. As riot police are piled on top of him, he begins to collapse and cannot hold himself up any longer. At this point, he is carried by the officers to the infirmary, where, despite him repeatedly informing them that he could not breathe, a mask was placed over his face, and he remained restrained. At no point does he seem combative or aggressive towards the officers.
As Brown fought for his life, he was injected with two doses of the sedative Lorazepam, as he begged and pleaded with the officers to remove the mask. He also begged for water, a plea that fell on the deaf ears of the police state. No ambulance or medical professionals were called in to save him, according to the attorneys for his family.
Brown was ultimately placed on a gurney and wheeled out of the jail and taken to University Medical Center where he was officially pronounced dead, KFOX reported.
The soldier had no criminal record, and no illegal drugs were found in his system. An autopsy reported that he died from natural causes, citing a sickle cell crisis that laid dormant until it was triggered by stress and dehydration. His family maintains he has never had any signs of a sickle cell crisis and believes it was caused by the stress put on him at the jail.
"Mr. Brown's death was an unfortunate tragedy. The sheriff's office has conducted a thorough review of the facts surrounding Mr. Brown's death and, based upon all the evidence obtained, determined that his death was caused by a pre-existing medical condition. The specific evidence cannot be discussed because of pending litigation." El Paso County Sheriff Richard Wiles said in a statement.
He did not address the fact that he appeared to be abused, and inadequate or no care was given to attempt to prevent his death.
Sadly, veterans, especially those with PTSD are victims of the police far too often.
Last year, we reported on the murder of Tommy Yancy, a father of two, who was savagely beaten to death by five law enforcement officers during a routine traffic stop on Mother's Day. Yancy, a veteran who suffered from PTSD, served in Afghanistan and Iraq in the 259th Field Service Unit following the 9/11 attacks.
In January, a video emerged of a 70-year-old veteran abused by police for walking with a cane.
In February, an officer pleaded not guilty after gunning down Raymond Keith Martinez, 51, an unarmed homeless veteran who was loitering, but posed no threat to anyone. In another incident that month, another officer turned away as his partner beat an innocent and handcuffed veteran- so that the assault would not be captured on his body camera.
In March, police gunned down a naked and mentally ill veteran in broad daylight.
In April, a horrifying video was posted online of a police officer beating a veteran in front of her child, after she screamed out that she was pregnant. Her 9-month-pregnant stomach was left covered in bruises.
The list goes on and on. A search of the term "veteran" on our website should be enough for any person with a "support our troops" sticker on the back of their car to be outraged, so where are they?
It is truly tragic how many men and women survive wars abroad just to come home and be killed by the muscle for their own government.
"I pray that new laws protecting soldiers in custody will be implemented, that the military adopt new policy procedures in regards to their soldiers being held in custody by an outside agency. If these changes can be made and our soldiers are protected, and another family never has to experience what my family has, then my son's death would not been in vain." Brown's mother told KFOX.