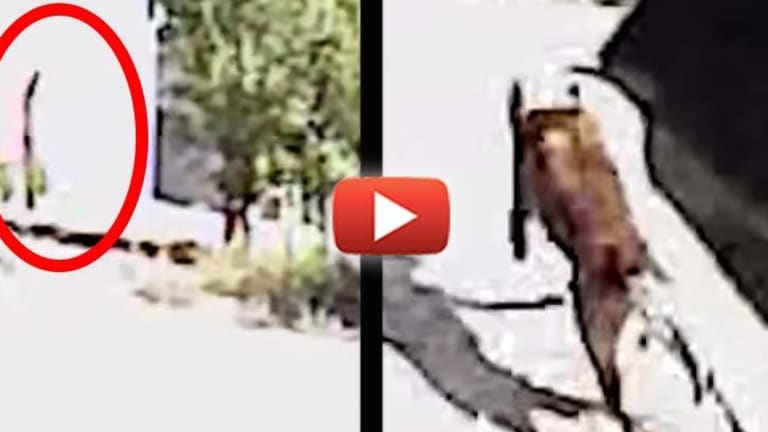 Body Cam Shows Cop Sic K-9 on 58-yo Man With Hands Up - Exposes Cops in Blatant Lie
In a case eerily similar to the police murder of James Boyd, Albuquerque cops released a K-9 on a surrendering old man with his hands up.
Albuquerque, NM — After tossing flashbang grenades into a suspect's yard, Albuquerque police officers released a K-9 to attack the unarmed man as he surrendered with his hands in the air. Although police initially claimed the suspect was uncooperative and had his hands near his waist, the video clearly shows the man surrendering when the officer released the attack dog.
Responding to a domestic abuse call in July, an Albuquerque SWAT team surrounded the house of Michael O'Connor, 58, for six hours before throwing flashbang grenades into his yard. As an officer's ">body cam recorded the incident, O'Connor stepped out of the house surrendering with his hands in the air when a K-9 officer released his dog.
O'Connor immediately fell to the ground screaming, "Jesus Christ! Get this thing off my arm! Jesus Christ! Get this dog off me! Oh God, help me!"
After searching the house, an officer asked O'Connor, "So when you walked out of the front door and saw officers, did you see a dog there as well?"
"No, I didn't see the dog until the last minutes," O'Connor answered. "I don't know why you sent a dog after me. Why did you do that?"
" width="790" height="444" frameborder="0" allowfullscreen="allowfullscreen">
According to the Albuquerque Police Department (APD), O'Connor was "moving things around in his waist. He's not showing his hands. He's refusing to cooperate with the actual commands."
The department made this statement in August while refusing to disclose the officer's body cam video to the public. After the video was recently released, the APD refused to explain why the K-9 officer ordered the dog to attack when the suspect was clearly surrendering with his hands in the air.
On March 16, 2014, APD officers fired a flashbang grenade at James Boyd as he agreed to surrender. After the flashbang exploded, an officer released a K-9 to take down Boyd. Shot multiple times in the back and arm, Boyd gasped for breath for 20 minutes before being transported to the University of New Mexico Hospital, where he died. Two hours before the shooting, Detective Keith Sandy was caught on dashcam video claiming, "I'm going to shoot him in the penis with a shotgun here in a second."