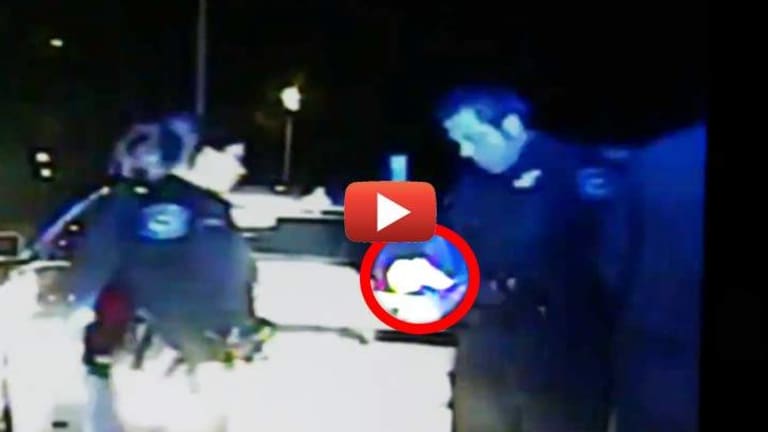 New Video Appears to Show Cops Planting Crack in Innocent Man's Car After Brutally Beating Him
A cop with a history of brutality and planting drugs, claims this 57-year-old man, with no criminal history and no drugs in his system, had crack in his car.
Inkster, MI-- Dashcam video released on Tuesday proved several Inkster officers lied about their extremely brutal encounter with 57-year-old Floyd Dent on January 28.
On Thursday, the lawyer representing Dent released perhaps an even more sinister video from the evening.
Police originally reported that the blood on his brain, broken orbital bone, and four broken ribs inflicted upon Dent came about as they acted in self-defense. They even went so far as to charge the retired grandfather with resisting arrest, assault on an officer, and fleeing police. All of these charges would ultimately be dropped after the judge watched the video.
However, a possession charge from the evening remained as the officers claimed they found crack cocaine under the passenger seat of the vehicle.
Dent was offered a plea deal that would include probation and expunging his record in six months, but Dent has refused to admit guilt for a crime he did not commit.
"I'm lucky to be living. I think they was trying to kill me, especially when they had choked me. I mean, I was on my last breath. I kept telling the officer, 'Please, I can't breathe,'" Dent said.
After being choked, punched 16 times, and repeatedly tasered- the beaten and bloodied man insisted that the drugs were planted in his car; a claim many might roll their eyes at and call a likely story. Dent was so adamant, however, that he insisted the hospital blood test him. All tests came back as clean as his criminal record.
Dent, in 57 years, had never had a single run in with the law and absolutely no drugs or alcohol were found in his system.
Now, newly released footage appears to prove Dent's innocence. It shows the officer who is seen choking Dent in the video, William "Robocop" Melendez, pull what appears to be a plastic bag filled with a white substance from his pocket before searching the battered man's vehicle.
The video is a bit blurry, and it is difficult to make out for sure what is going on, but a quick glance at Robocop's history certainly does not make the image less suspicious.
The former Detroit officer has an extremely long list of offenses, including having "been sued at least four times for excessive use of force. He has cost the city more than $1 million in legal settlements and received more citizen complaints than any other in the city," the LA Times reported in 2003.
In one particularly expensive settlement, the officer cost Detroit a million dollars following the fatal shooting of an unarmed man during a traffic stop in 1996. Melendez shot the man execution style 11 times, in front of horrified witnesses.
During a joint investigation by the FBI and Detroit Police Department, he was indicted for corruption, falsifying police reports, and planting drugs/guns on suspects who had been illegally arrested. The officer was somehow acquitted by a jury, despite other police testifying against him.
Some of the allegations in the indictment against Melendez included:
Melendez and two officers illegally arrested Victoria Tillmon on June 16, 2001, outside her home in the 3500 block of Wesson and falsely claimed she dropped a vial of crack cocaine. On the way to the police station, the indictment said, Melendez threatened her, saying that people who testify against him will be killed.

On Feb. 26, 2001, Melendez and two officers illegally entered a residence at 3820 Wesson and illegally searched Clifton White and Shannon White. The officers falsely reported that they confronted the pair on the street and that Clifton White was carrying cocaine.

In a lawsuit filed March 12 in U.S. District Court, a Detroit man accused Melendez and Officer Troy Bradley of concocting a gun case that landed the man in jail for 213 days.

In his lawsuit, Darell Chancellor said Melendez and Bradley arrested him and another man, Robert Louis Blackwell, near midnight on April 22, 2002, on Clippert Street.

The suit says that Melendez and Bradley, after a routine stop, planted handguns that led to federal charges against Chancellor. He was held in jail from April through November last year, until the U.S. Attorney's Office agreed to his release on bond, the suit says. On Nov. 26, the U.S. Attorney's Office asked for charges to be dropped against Chancellor.
Despite prosecutors determining that Robocop led the ring of 17 officers in engaging in corrupt policing, the crooked cop was allowed to keep his job and continue putting lives in danger.
If a bartender is suspected of not washing their hands at a bar, they can be fired for being a health risk.
However, if you have a history of brutality, murder, and corruption, and you are a cop, you keep your job. After all, it only places the lives of the community you work for in your corrupt hands. You plant drugs, beat and execute innocent people because you are a hero, and you just want to make it home to your family every night.