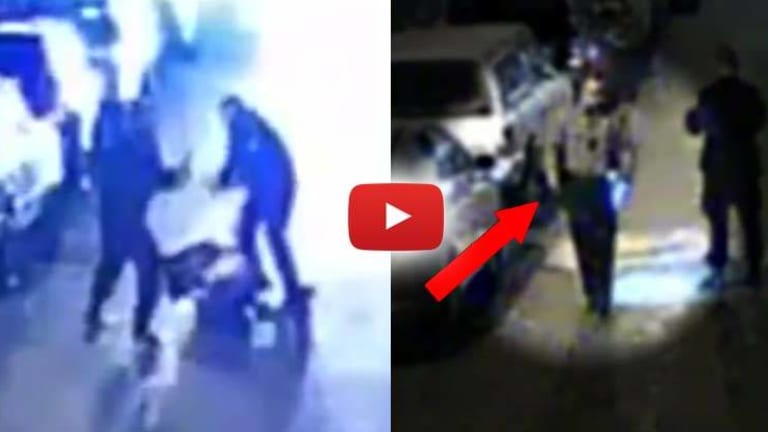 Video Catches Cops Beat Man like 'Rodney King,' Steal His Things to Give Witnesses to Keep Quiet
In America, public servants will beat a non-violent suspect, steal his property and give it to witnesses to keep quiet, and we call this 'due process'.
San Francisco, CA -- On November 12, 2015, Stanislav Petrov, 29, decided to run from police; a decision that would get him beaten, almost to death. The entire beating was caught on camera, and now, the enhanced surveillance footage shows cops bribing witnesses not to talk, using Petrov's stolen property.
After brutally beating a non-violent and non-resisting suspect for several moments, the officers involved relieved him of his belongings and gave them to a homeless couple to keep them quiet.
After the video had been released by the San Francisco Public Defender's Office, the couple came forward with claims that the cops bribed them not to say anything and that the deputies took a "trophy photo" of their victim, Stanislav Petrov.
Up until now, the witnesses claims have been just that, claims. However, thanks to Petrov's Public Defender Jeff Adachi, we can now see the cops take the gold chain and walk into the alley to deliver the stolen goods as a form of hush money.
Jerome Allen and his wife Haley Harris were living in a tent on the corner during the beating that night.
"They came up to me and the first thing they said was, 'did you enjoy the show?'" said Allen, describing the interaction. "The other cop came around the corner and said, 'Hey, I found something: don't spend it all in one spot.' And he passed me a very nice gold chain with a large medallion cross on it, with diamonds, Turkish gold."
According to KTVU, Paul Endo worked to boost the video and audio quality. He said he can hear a metal clink and see a deputy twirling something shiny in his hand. "Around the subject's hand, there seemed to be an object that was reflective, perhaps on the end of a rope or chain."
"And now you have more than a smoking gun," Adachi said. "You (see) where he's actually twirling this chain around."
While the publicly released video only shows the officer twirling the chain and turn off camera, KTVU learned recently that more surveillance video exists that was captured from the alleyway, after Petrov was taken to the hospital.
"My jaw dropped," said Adachi. " It completely corroborates what the witnesses have said."
Aside from the man's jewelry, the deputy gave the homeless couple money, crystal meth, and some Newport cigarettes.
After the department had found out about the bribe, the officer in question was suspended.
"This is absolutely unacceptable, if true, it will not be tolerated," Sheriff's spokesman Sgt. J.D. Nelson told reporters last month at an evening news conference. "They are no better than the criminals they arrest if these allegations are true."
"Nobody bribes witnesses when they're innocent," said Haddad. And judging from when the officers wrote their reports, they are clearly not innocent.
Haddad noted that the deputies obviously wrote their reports after they had seen the video so they could get their stories straight.
"The deputies waited four days to write their reports," said Haddad, "when their policy requires the reports to be completed by the end of shift."
The San Francisco District Attorney's Office is tight-lipped about the incident and releasing no information. However, sources close to the Agency said they may be close to filing criminal charges against Deputies Luis Santamaria and Paul Wieber for the use of excessive force.
"The video became a part of our investigation," said Sgt. Ray Kelly of the Alameda sheriff's office who has also launched a criminal probe into the incident. "As a matter of fact, we had the video enhanced by the FBI so that it's more clear."
He said his department put Deputy Shawn Osborne on administrative leave and investigators believe he is the one shown in the video twirling the chain, according to KTVU. "The officers on scene didn't know that we had that video," Kelly said. "So we used it as an investigative tool to get to the truth."
In the Land of the Free, public servants will brutally beat down a non-violent suspect, steal his property and give it to witnesses to keep quiet, and we call this 'due process.'
"We need to restore accountability, said Adachi. "This was a beating that was on par with the Rodney King beating and yet, in that case, there were charges filed in two weeks, you know here, it's been six months."