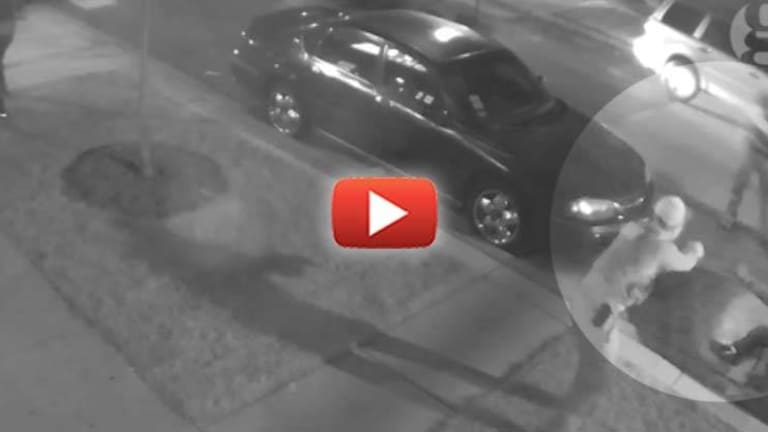 Video of Chicago Cops Killing Another Man Exposes Dept Tendency of Lying About Police Shootings
For members of the Chicago police department, public enemy number one is proving to be video evidence of police lies.
Chicago, IL -- Chicago Police are again the subject of controversy, in yet another shooting where the police department's explanation and the evidence don't add up. In the early morning hours of June 20, 2015, twenty-two-year-old Alfontish "Nunu" Cockerham was shot by police who were investigating a call about men with guns standing in the area of 71st and Merrill on Chicago's south side. Days later, he succumbed to his injuries and died in the hospital.
According to police accounts of the incident, Cockerham pointed a gun at officers, forcing Officer Anthony Babicz to shoot. Footage from a nearby payday lending store, obtained by the Guardian, seems to dispute this claim. Even though the CCTV footage is certainly grainy -- it is clear that Cockerham does not have a weapon in hand, much less one pointed at police, when Babicz shot him.
What the video does show is the sudden appearance of an object on the ground near the location from which Babicz fired at Cockerham -- which was corroborated by eyewitness Natasha Mclemore. After the shooting, Babicz and other officers run toward Cockerham and handcuff him, while Babicz shines a flashlight in the direction of the weapon on the ground.
It takes a full five minutes and forty seconds for medical assistance to arrive.
While it's certainly possible Cockerham had been carrying that weapon, or had even pointed it at police at some point prior to entering the camera's view, the video clearly proves Babicz's account of shooting the man in response to his aiming a gun at police to be false.
Mclemore witnessed the incident from across the street, in her apartment building's lobby, and says Babicz fired four times at Cockerham, who was situated between two parked cars. Immediately after the shooting, she approached Babicz, and the two had a brief, heated exchange. "I said, 'You shot him! You killed him!'" she stated. "The officer yelled back, 'Did you see what the fuck he did? He had a fucking gun!'"
In the weeks after witnessing the shooting, Mclemore claims she was "harassed" six times by police, who even showed up at her residence on multiple occasions. "They kept coming to my house, ringing my doorbell. I got harassed to the point I didn't even want to go outside," she explained. When asked if perhaps police were simply attempting to procure her account of the incident, she said, "I already gave my statement. It wasn't just asking they was doing, it was intimidating.
"They said, 'You might not have saw what you think you saw.' I was like, 'Oh my god, do I need a lawyer? I already told you what happened.' I knew what I saw and I'm not going to change my story for nobody . . . Somebody got to tell the truth. Somebody got to speak for Nunu because he can't speak for himself."
According to initial reports, when police arrived at the location of the call, Cockerham took off running and headed east. Police said he rounded the corner at Merrill, where officers say he had gun, which they told him to drop. As reported by the Chicago Tribune, police at the time said, "Cockerham then turned, raised the gun at the officer and the officer shot him."
While he lay in a hospital bed, struggling for his life, Cockerham was charged with aggravated assault and the court set his bail at $100,000.
The release of an autopsy last week did not shed light on events of that evening. According to the medical examiner, the first gunshot entered Cockerham's upper leg from behind, but the exact direction from which the second shot entered his other leg was unable to be determined.
"Once circumstances are such that a suspect no longer poses a clear and imminent threat to police, then it is incumbent on the police to take him in so he can have his day in court," Cockerham's family lawyer, Nenye Uche, told the Guardian. Uche believes the indeterminate autopsy poses the possibility the second shot occurred while Cockerham was already on the ground, with his hands up -- which also lends suspicions to a possible cover-up by police. "They should at the very least be investigated just for that," he stated.
Police continue to deny any misconduct in the incident, but obvious discrepancies in the video and police reports have left the family no choice but to release the footage to the public.
"No police officer should be writing sworn police reports that don't match up with what is captured in the video evidence," Uche asserted. "The use of deadly force could not possibly be found to be reasonable and necessary under such circumstances."
As we've seen in recent weeks, the Chicago police are anything but honest when it comes to officer-involved shootings and in-custody deaths. In only a short period, not one, but two videos were released showing Chicago cops gun down men as they ran away - contradicting their original stories of having a gun pointed at them.
It is entirely possible, nay likely, that Alfontish "Nunu" Cockerham's death is the result of the same trigger-happy and corrupt mindset of the Chicago police department.