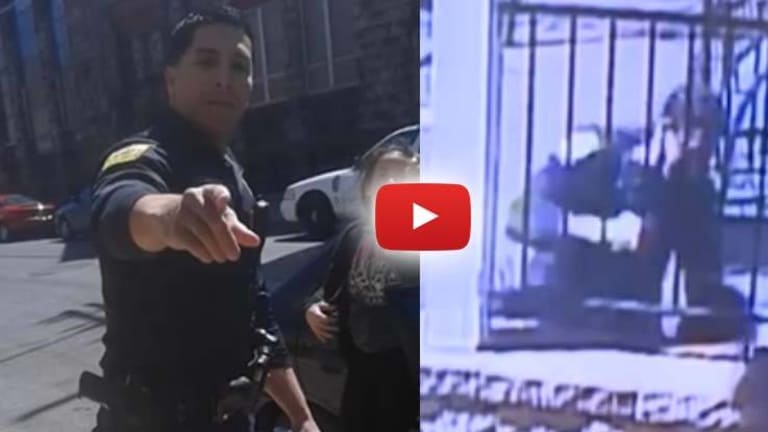 VIDEO: Innocent Woman Beaten by Maniac Cop for Filming Him Accuse Her of Stealing Her Own Car
Before beating the innocent woman, he smashed her phone, but he didn't know someone else was filming.
Reading, PA – Caught on video punching an innocent woman in the face and destroying her cell phone for recording him, a Pennsylvania police officer faces criminal charges after allegedly falsifying reports and blatantly abusing his authority. Although the deceitful cop initially accused the woman of punching him, several videos of the incident revealed that he lied in order to justify the beating and false arrests.
At 12:24 p.m. on April 5, Reading Police Officer Jesus Santiago-DeJesus pulled over Marcelina Cintron-Garcia and her boyfriend for not using a turn signal before parking despite the fact that surveillance video revealed she actually did use her turn signal.
"The vehicle comes back to a Mitsubishi. You're driving a Honda," Santiago-DeJesus falsely accused the couple, who had been driving a Mitsubishi Mirage.
After Santiago-DeJesus accused them of driving with a license plate belonging to a Mitsubishi instead of a Honda, Cintron-Garcia walked over to the front emblem to show the moronic cop that the car she was driving is a Mitsubishi. But he was having nothing of it.
According to the initial police report, Cintron-Garcia suddenly pulled away before punching Officer Santiago-DeJesus. But according to five videos that recorded the incident, Santiago-DeJesus falsified the reason for pulling her over and falsely accused her of driving a stolen car before resorting to violence for no reason.
While complying with the officer's orders, Cintron-Garcia began recording the incident on her cell phone when Santiago-DeJesus abruptly attempted to grab the phone from her hand. As Cintron-Garcia refused to hand over her phone, two mindless cops aggressively grabbed her boyfriend and threw him against the sidewalk even though he did not pose an immediate threat.
After snatching the phone from her hand, Santiago-DeJesus violently smashed it against the ground in an impulsive act of cowardice before shoving Cintron-Garcia and punching her in the face for no apparent reason. According to police, Cintron-Garcia required staples in her scalp after Santiago-DeJesus hit her head against an exposed metal pipe.
"I cried for three days in jail thinking about my kids," Cintron-Garcia told WGAL.
Spending three days in jail, Cintron-Garcia was charged with assault, harassment, and resisting arrest. Although her boyfriend did not appear to commit any crimes on the videos of the incident, Joel Rodriguez was charged with disorderly conduct and resisting arrest.
Withdrawing the charges against Cintron-Garcia and her boyfriend, Berks County District Attorney John Adams announced Wednesday criminal charges against Santiago-DeJesus for official oppression, tampering with evidence, false reports, and criminal mischief. Pending an investigation into Santiago-DeJesus' overzealous actions, the department has placed him on paid administrative leave.
None of the officers who assisted Santiago-DeJesus in his unjustified assault currently face any criminal charges.
Below is the full video of the incident.
[author title="" image="https://"]Andrew Emett is a Los Angeles-based reporter exposing political and corporate corruption. His interests include national security, corporate abuse, and holding government officials accountable. Andrew's work has appeared on Raw Story, Alternet, Activist Post, and many other sites. You can follow him on Twitter @AndrewEmett and on Facebook at Andrew Emett.[/author]