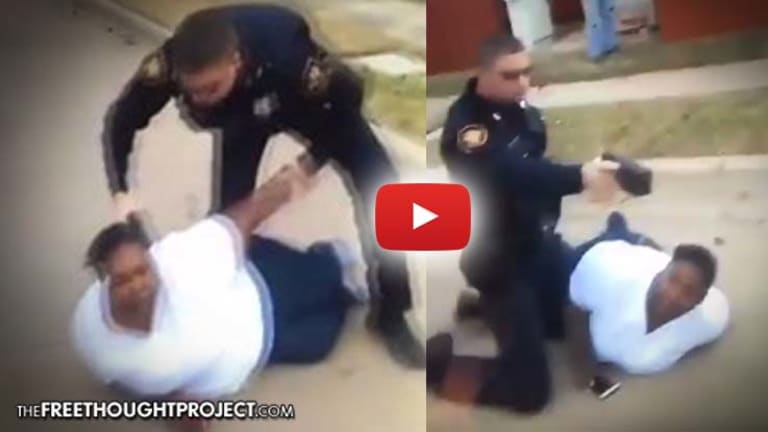 VIDEO: Cop Assaults & Arrests Mom and Children Who Called 911 on Man Who Assaulted Her 7yo Son
Fort Worth, TX -- A video posted to Facebook Wednesday evening has quickly gone viral showing a Fort Worth cop involved in a violent arrest of a mother and her two teen daughters.
The incident began when Jacqueline Craig called police alleging that her neighbor assaulted her 7-year-old son. Craig told police that the neighbor claimed he saw the 7-year-old throw a piece of trash on the ground and when her son refused to pick it up, the adult male began choking him.
Yes, it is wrong to litter. However, choking someone else's child over littering is most certainly not a just response. However, the cop could not have cared less about the assault as the first question out of his mouth is, "Why don't you teach your son not to litter?"
"It doesn't matter if he did or didn't. It doesn't give him the right to put his hands on him," explained Craig.
"Why not?" callously replies the cop.
At this point, after the officer implies that an adult assaulting a child is perfectly fine if litter is involved, the argument begins to escalate.
The officer then says, "if you keep yelling at me you're going to piss me off and I'm going to take you to jail."
As her daughter attempts to calm down the situation, all hell breaks loose, and the officer makes good on his threat.
The video then cuts to Craig laying on the ground with the officer kneeling on her back. He has his taser out and points it at a small child and then at Craig's daughter.
The officer then handcuffs Craig and her 19-year-old. The cop then turns his attention to the person filming. He knocks the camera out of her hand and tells her, "you're going to jail too!"
Craig was arrested on charges of resisting arrest and failure to identify, according to court records. Brea Hymond, Craig's 19-year-old daughter, was charged with resisting arrest and interfering with public duties.
There are no records of the man who assaulted Craig's 7-year-old son being arrested.
On Thursday afternoon, Craig and her daughter were finally released.
In a statement, Fort Worth police acknowledged the incident and noted that the officer involved has been placed on restricted duty pending the outcome of the investigation.
"The investigators worked throughout the night and into the morning interviewing witnesses and reviewing video evidence; including video from a body worn camera that was active during the incident," FWPD wrote.
"Since this is an internal investigation, state law limits the information that may be released, including the officer's body cam footage," FWPD says.
The department adds that it "enjoys a close and cooperative relationship" with citizens built on "transparency, mutual trust and respect," and that it expects officers to treat citizens the same.
"We ask that our investigators are given the time and opportunity to thoroughly examine this incident and to submit their findings. This process may take time, but the integrity of the investigation rests upon the ability of the investigators to document facts and to accurately evaluate the size and scope of what transpired. We ask our community for patience and calm during this investigation process."
Instead of helping a woman who called police for assistance in stopping a man who had attacked her small child, Fort Worth Police assaulted her. This family needed help and got brutality instead.
This is the reason there is a growing mistrust of police in America.
UPDATE: All charges have been dropped after body cam footage from the cop was leaked to media this week. Now, instead of the family facing charges, the officer has been suspended for 10 days without pay and the man was issued a citation for Assault by Contact for touching the child.
Below is the leaked body cam footage.
[author title="" image="https://tftpstagingstg.wpengine.com/wp-content/uploads/2016/03/magorist-e1456948757204.jpg"]Matt Agorist is an honorably discharged veteran of the USMC and former intelligence operator directly tasked by the NSA. This prior experience gives him unique insight into the world of government corruption and the American police state. Agorist has been an independent journalist for over a decade and has been featured on mainstream networks around the world. Follow @MattAgorist on Twitter and now on Steemit[/author]