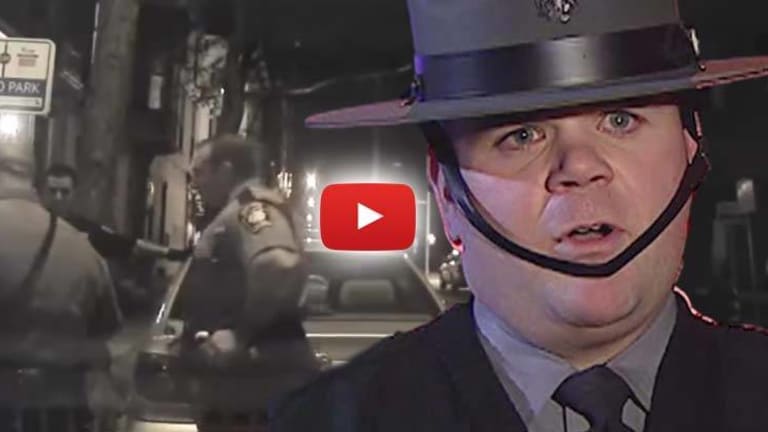 VIDEO: Cop Didn't Like Being Called a 'Storm Trooper' So He Kicked a Handcuffed Man in the Face
Dashcam footage showing a state trooper kick a handcuffed man in the face has just been released.
Carlisle, PA -- In May of 2015, Chris Siennick was detained and placed under arrest for skateboarding the wrong way down the street. Dashcam video, released this week, shows that the arresting officer lied about what happened while Siennick was in police custody.
According to Trooper Ryan Luckenbaugh, of the Carlisle barracks, Siennick hit his patrol vehicle with his skateboard as he drove by. However, according to both the District Attorney's Office and the dashcam video, this was a complete fabrication.
What did happen, however, is that Luckenbaugh kicked the handcuffed man in the face.
After multiple cops had detained him for the horrid crime of skateboarding the wrong way on a street, Siennick voiced his discontent with the officers for their actions. Siennick began referring to the cops as 'fascist pigs' and compared them to storm troopers from the movie Star Wars.
This comparison was not particularly well-received by officer Luckenbaugh and when the opportunity presented itself for the trooper to inflict punishment on Siennick, he took it. According to prosecutors, reports WGAL, Siennick, who was seated on the ground and in handcuffs, spit in the direction of the officer who then quickly replied with a kick to his face.
"Spit on that!" barks Luckenbaugh after assaulting a helpless man.
"No, no, no, no," says one of the other officers after seeing the assault.
Trooper Luckenbaugh then filed false claims and none of it was disputed or even reported by the officers who witnessed the assault.
Not until they were questioned during an investigation did the officers offer up the real story of what happened that night.
The officers stated that "the kick was neither reasonable nor justified given the circumstances," according to court documents.
Siennick is now pursuing a federal civil lawsuit and says the criminal charges will help his case. All charges against him were dropped.
According to WGAL, during his preliminary hearing Monday, a judge ruled Luckenbaugh will face trial on four charges including assault, harassment, and oppression.
[author title="" image="https://tftpstagingstg.wpengine.com/wp-content/uploads/2016/03/magorist-e1456948757204.jpg"]Matt Agorist is an honorably discharged veteran of the USMC and former intelligence operator directly tasked by the NSA. This prior experience gives him unique insight into the world of government corruption and the American police state. Agorist has been an independent journalist for over a decade and has been featured on mainstream networks around the world. Follow @MattAgorist[/author]