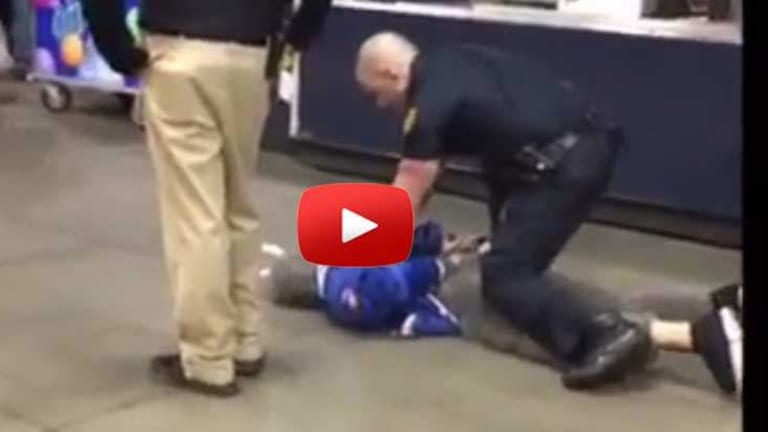 Video: Roid Raging Cop Chokes and Body Slams Sports Fan for No Reason
Infuriating cellphone video captures a cop on an apparent roid rage, attacking a sports fan for no reason.
Pittsburgh, PA — In a blatant abuse of authority, a Pittsburgh police officer was caught on video assaulting a Cubs fan during last week's National League Wild Card game between the Chicago Cubs and Pittsburgh Pirates. After the belligerent cop placed the sports fan in a chokehold and slammed him to the ground for asking a simple question, Pittsburgh security guards can be seen on video attempting to destroy evidence by smacking the cellphone out of his friend's hands.
As the Chicago Cubs were defeating the Pittsburgh Pirates in Wednesday's National League Wild Card game, a Cubs fan who wished to only be identified as "Dimitri" sat in the left field bleachers when he received a text message informing Dimitri that he was on TV. After holding up a sign supporting the Cubs, Dimitri was hit with a cup of chewing tobacco. While Dimitri argued with the repugnant Pirates fan who threw the cup of chew at him, an usher arrived and kicked Dimitri out of the stadium.
In an interview with Sports Mockery, Dimitri explained, "I left my seat and was exiting through the concourse when a Pittsburgh police officer who didn't know any details confronted me. Once I asked him if I could talk to him about the situation, he grabbed me and attempted to put me in a chokehold. I asked him to stop. He said, 'Or what?'"
According to the video taken by Dimitri's friend, a Pittsburgh cop confronts Dimitri and immediately places his hands on the diminutive Cubs fan. As Dimitri asks to speak with the officer, the cop insultingly responds, "No, not at all."
Although the video clearly shows fresh stains on the back of Dimitri's Cubs jacket, the cop does not care that Dimitri was the victim and not the perpetrator. As the overaggressive officer escorts Dimitri toward the exit, he places the young man in a chokehold while Dimitri tries to explain the situation. As Dimitri screams in pain, drunken Pirates fans can be heard cheering for the abusive cop.
With the cop's arm on his throat, Dimitri screams, "Stop it! Seriously, stop it."
Looking down at Dimitri with disdain, the cop retorts, "Or what?"
As Dimitri's friend continues recording the incident on his cellphone, several cowardly Pittsburgh security guards attempt to knock the phone out of his hands. While protecting his cellphone, Dimitri's friend tells the guards, "You're messing up my friend for no reason."
Even though Dimitri does not appear to be resisting, the overzealous cop easily lifts Dimitri into the air before slamming him face-first onto the floor. Dimitri continues attempting to calmly talk to the officer, who places him in a painful wristlock and cuffs his hands behind his back. The video ends with the cop lifting Dimitri by his tobacco-stained jacket and escorting him towards the exit.
"No arrest was made, nor were any charges filed," Dimitri recalled. "They merely kicked me out for being a fan and excited to be on TV and watching my team win."
After leaving the stadium, Dimitri went to the emergency room to receive treatment for his injured back and wrist. As Dimitri considers pressing charges against the officer for using excessive force, the Pittsburgh Police Department refuses to comment on the flagrant display of police brutality.
When confronted by citizens who do not immediately submit to their authority, many cops are trained to take that person down to the ground regardless of the facts. With Dimitri wearing a Cubs jacket to a Pirates game in Pittsburgh, the cop obviously had no sympathy for a Cubs fan covered in tobacco spit.
In 2011, another fan sitting in the left field bleachers was recorded on video as Pittsburgh cops tased and beat him with nightsticks. Although the sports fan was not fighting back, the officers continued to assault him in front of a crowd of drunken Pirates fans.