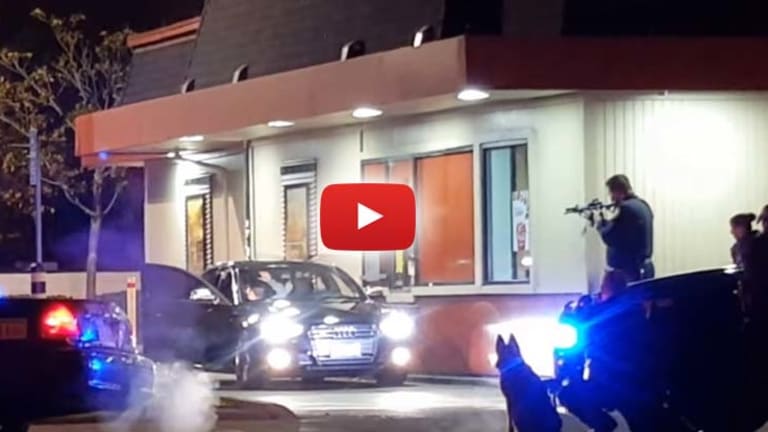 VIDEO: Cop Pulls Gun on Jack in the Box Employee for Not Making his Burger Fast Enough
After employees at a local Jack in the Box took too long to take this cop's order, he pulled his gun on them to let them know how he felt.
Santa Clara, CA -- A video was posted online this week by Luber Late Nights showing a Santa Clara County Sheriff's deputy involved in a standoff with police after he decided to pull his gun on a Jack in the Box employee.
Benjamin Lee, 33, was arrested about 2:40 a.m. earlier this year after he drunkenly drove into the Jack in the Box order line and apparently thought his status as a cop could speed up his service.
According to witnesses, Lee became very frustrated that the drive-through line was taking so long. When he finally reached the window to order his food, he pulled out his gun instead of his wallet.
Naturally fearing for their lives when assaulted with a deadly weapon by a cop, the employees called 9-1-1. Lee, obviously thinking he did nothing wrong or feeling that he was above the law, sat and waited for his food.
However, before Lee's food would arrive, officers with the Santa Clara police department would show up.
When officers arrived, a tense standoff ensued as they pinned their AR-15s on Lee's car and his passengers. Eventually, however, police would take them in without incident. Anyone else accused of the same crime would likely have experienced a deadly fate.
Lee was arrested on suspicion of DUI and brandishing a weapon. When the vice president of the Deputy Sheriffs' Association, Roger Winslow, released a statement on the incident, he conveniently failed to mention the assault with a deadly weapon.
"Our deputies make arrests for these crimes regularly. They see firsthand the consequences caused by impaired drivers," Winslow said. "DUI by anyone is unacceptable; doubly so when it involves a deputy sheriff. We are held to a higher standard and rightly so."
He then cautioned the public not to rush to judgment.
"We fully expect that appropriate action will be taken after all the facts are determined," he said.
However, it is unclear if any 'appropriate action' has been taken. Following his arrest, Lee was placed on paid vacation, also known as administrative leave.
The Free Thought Project contacted the Santa Clara Sheriff's Department to inquire about Lee's status, but they did not comment on his status or charges. It can be assumed that this officer, drunk on his perceived authority and alcohol -- who threatened the lives of fast food employees with a gun for not making his burger fast enough -- is still receiving a taxpayer funded paycheck.
Police officers pulling guns on food workers in not uncommon. After this incident happened in January, the Free Thought Project was given a video by a Pizza delivery driver who was held at gunpoint by a cop and nearly killed while delivering pizza.
In 2014, officer Scott Biumi pleaded guilty to assault and was sentenced to 10 years probation for pointing a gun at teenagers in the drive-through line at a McDonald's.
Also in 2014, Tuscon Police Officer, Kyle James McCartin, was drunk and belligerent when he walked into a Giant Gas Station wearing his bulletproof vest and began pointing his pistol at the clerk.
For assaulting innocent people with deadly weapons, none of the officers mentioned above spent a single day in jail.
[author title="" image="https://tftpstagingstg.wpengine.com/wp-content/uploads/2016/03/magorist-e1456948757204.jpg"]Matt Agorist is an honorably discharged veteran of the USMC and former intelligence operator directly tasked by the NSA. This prior experience gives him unique insight into the world of government corruption and the American police state. Agorist has been an independent journalist for over a decade and has been featured on mainstream networks around the world. Follow @MattAgorist[/author]