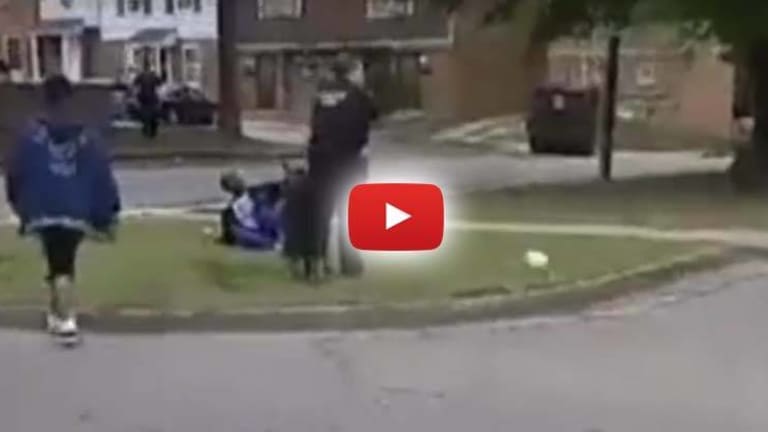 VIDEO: Cop Releases K9 Into Crowd, Allowing it to Maul an Innocent Man
A disturbing video shows the result of a police officer releasing his dog into a crowd of innocent people.
Petersburg, VA -- Petersburg police have launched an internal investigation this week, after one of their officers was seen on video releasing his K-9 into a crowd of innocent people. The resultant video shows an innocent man being mauled by a police dog.
On Saturday, police responded to a call about an alleged fight in a neighborhood. While they were questioning a suspect, he took off running, so an officer set loose his K-9 to apprehend the man.
However, instead of apprehending the suspect, the K-9 ran into a large crowd and apprehended an innocent man. The victim, Rafer Allen, was captured on a friend's cell phone who was broadcasting live on Facebook to document the police interaction.
Instead of taking fault for the irresponsible act of setting a vicious dog loose into a crowd, officers said that there were multiple people running. Allen did not dispute this as he said he was trying to get his kids to safety before they were mauled by the dog.
"When I fell to the ground, I'm looking at the police officer telling him, 'Get your dog! Get your dog off me!'"
After police finally got their dog off of the innocent man, they did say they were sorry, but Allen questions why the dog was released into a crowd of people in the first place.
"The dog sees a lot of people, so the dog don't know where to go," said Allen. "The dog ain't letting me go so he choked the dog and the dog let me go. Why do you have to do all that if it's your dog and you've had it for decades?"
After the video was posted to Facebook, the Petersberg police say they've launched an investigation.
"The canine unit officer on scene released the dog who bit a person not involved in the altercation," Petersburg Police said in a new release. "The person refused medical treatment and left the scene. The dog has been removed from service pending a complete investigation and the officer is still on regular duty."
When the local news team from NBC 12 asked the Petersberg police what their policy was for releasing a K-9 with a crowd nearby, the department declined to answer, citing the pending investigation.
Allen says he doesn't blame the dog, but he blames the dog's handler. Since the incident, the dog has been taken out of service, pending the results of the investigation.