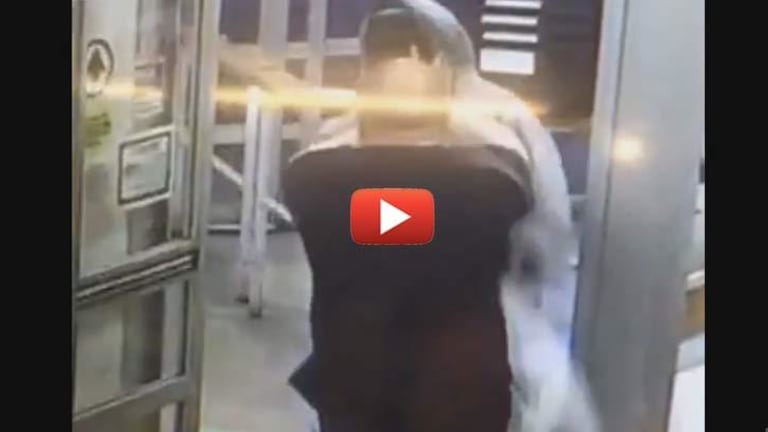 VIDEO: Cop Snaps, Randomly Attacks Man As He Walked into a Liquor Store
Two videos were released on Friday illustrating the ridiculous misconduct of two high-ranking New Jersey cops.
Millville, NJ -- In an attempt to bolster transparency, Millville Mayor Michael Santiago released two videos Friday showing the misconduct of two of their high-ranking officers.
Both of the incidents resulted in criminal charges for the officers involved.
Lt. Carl Heger was charged Tuesday with simple assault after surveillance video captured him attacking a man as he walked into a liquor store.
The department released a cellphone video of the surveillance video Friday, which showed Heger turn around and shove a man who was walking behind him. The video does not have audio, but it is apparent that Heger's actions were in no way self-defense.
The department also released the subsequent 9-1-1 call from the liquor store employee reporting Hager's assault.
"I just had a customer be assaulted by another one at Joe Canal's Liquor Store in Millville and a black guy is waiting for him outside," the unidentified employee said.
Santiago has placed Heger on paid vacation pending the outcome of his case.
"Whether they are on duty or off-duty, officers of the department need to understand that they are going to be held to a higher standard," Santiago said Friday during a press conference. "The law requires no less and this city will tolerate no less."
This is Heger's second time being charged with assault. Heger was charged in 2006 after an incident involving his wife.
A second video of another high-ranking officer in the Millville police department was also released Friday, this one of a DUI.
According to NJ.com
Lt. Edward Zadroga was charged Sunday night with driving while intoxicatedafter getting into a car accident at Sidelines Sports Bar. City police arrested him after Zadroga failed a field sobriety test.

The department's video footage shows a police car pulling behind Zadroga's pickup truck and then Zadroga attempting the field sobriety tests. The final part of the police video shows Zadroga riding in the back of a police car on his way to the station.
Zadroga was previously in charge of the entire department after the chief was allegedly forced to resign.
According to the Daily Journal,
In a lawsuit filed by Officer Jeremy Miller last year, Zadroga was accused of conspiring with Heger and other officers to overthrow then-Chief Thomas Haas from his post. Miller specifically made a claim he heard Zadroga say, "We have to figure something that (we) can do to get the chief."
Illustrating just how deep the corruption runs within the Millville police department, Zadroga was awarded $100,000 from the city last year after claiming he was the victim of a ticket-fixing scheme.