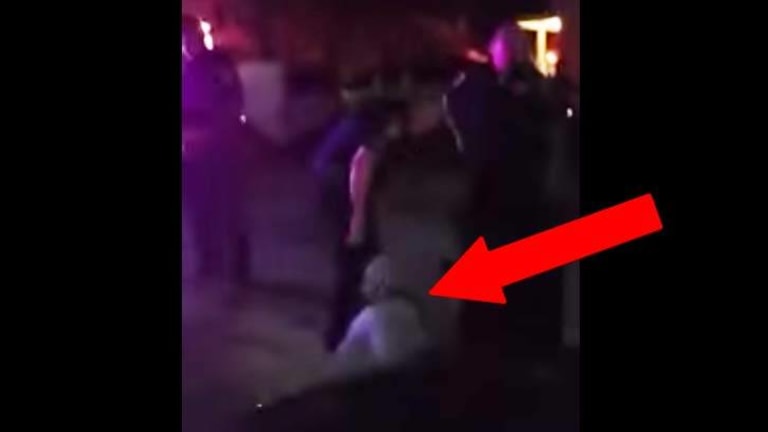 VIDEO: Cop Spits in Innocent Handcuffed Man's Face Then Arrests Him for the Assault
A veteran Baltimore cop has been suspended and is being investigated after video showed him spitting on a handcuffed man.
Baltimore, MD — A police sergeant was suspended Tuesday after cellphone videos captured him spitting in the face of a handcuffed man. Although the man was restrained on the ground and not fighting back, police charged him with assault, resisting arrest, and disorderly conduct.
Shortly after 8 p.m. on Monday, Sgt. Robert Mesner and several other Baltimore police officers approached a group of people sitting on the steps of a building and ordered them to move. Although upset that they were told to leave, the group complied while voicing their frustration at the officers. As 31-year-old Alfred Evan kept talking trash while walking away from the cops, Sgt. Mesner escalated the situation by following Evan across the street.
Caught on ">cellphone video, Mesner orders Evan to sit and threatens to fire his Taser at him. After Evan immediately complies, the cameraman steps behind a parked car for a moment, and Mesner appears to attack Evan before placing him in handcuffs. With Evan restrained on his stomach, Mesner turns him on his side and spits in his face.
" width="790" height="593" frameborder="0" allowfullscreen="allowfullscreen">
"You spit on him," a woman can be heard shouting off-camera. "He just spit on him!"
Another officer aims his Taser at the angry crowd and orders them to cross the street. As Evan is taken into custody, he can be heard saying, "He just spit on me!"
While police put Evan inside the back of a transport van in another video, a woman tells the Baltimore cops, "You won't Freddie Gray that one!"
According to court records, Evan was charged with second-degree assault of a law enforcement officer, second-degree assault, resisting arrest, and disorderly conduct even though the video clearly shows Mesner spitting on him. On Tuesday, internal affairs officers began a criminal investigation into the 34-year police veteran after interviewing multiple witnesses and reviewing cellphone videos. On Tuesday evening, Mesner was suspended from the force.
"The video appears to depict the police sergeant spitting on the arrestee," stated Interim Police Commissioner Kevin Davis. "That is outrageously unacceptable, and it directly contradicts the necessary community relationships we are striving to rehabilitate. The police powers of Sgt. Robert Mesner are now suspended, and a criminal investigation is underway. Our entire community deserves to be treated with dignity and respect."
Although Mesner can be charged with assault for spitting on the handcuffed man, Evan continues to face assault charges even though videos revealed that he was the victim of police abuse. In 2004, Jeffrey Lewellyn was charged with criminal assault after spitting on a patient on the grounds of a Veterans Administration Medical Center in Walla Walla, Washington. He was sentenced to two years probation and 50 hours of community service.