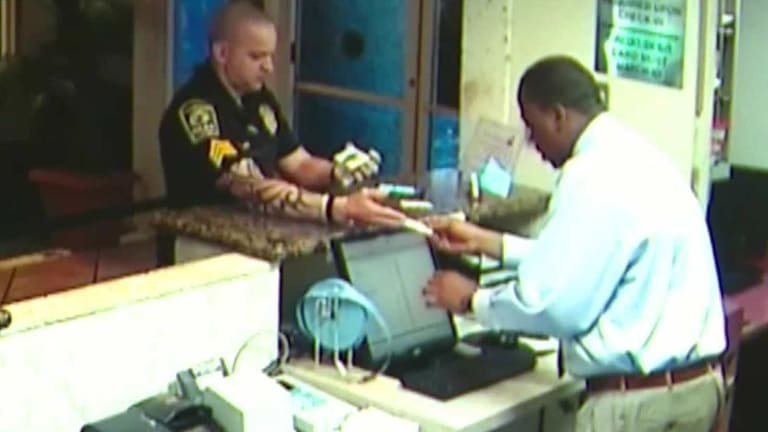 Video Shows On-Duty Cop Take Mentally Ill Woman into Hotel to Sexually Assault Her
Surveillance footage shows a police sergeant lying about why he was reserving a hotel room for a mentally ill woman, before using it to sexually assault her.
When a police sergeant arrived at a local hotel in uniform, and used his personal credit card to pay for a 23-year-old mentally ill woman's room, he claimed she was a domestic abuse survivor, and he was helping her while police searched for her husband—but he didn't admit that he was actually looking for a place to take advantage of, and sexually assault the woman.
Newly released surveillance footage obtained by Local 10 News shows Miami Gardens police Sgt. Javier Romaguera leading the woman into the hotel lobby after midnight on the night of July 11, 2016, and then telling the clerk at the front desk that "no can know she's here." 
"It's kind of sad," Romaguera told the hotel employee. "She's just a baby … she's Haitian, so she doesn't speak English. Her parents brought her here so she could have an education ... She comes here with her husband. He beats the s*** out of her. We're trying to find him, but she can't go back to the house."
Adding to the story, Romaguera told the clerk, "I would rather pay whatever because I have four daughters."
While the woman—who has remained unidentified—did immigrate to the United States from Haiti one year before the incident, she was not in an abusive relationship, and was not even married. Instead, she was reportedly picked up by the officer after she was identified as a distressed individual who left the group home where she was living.
"I'm giving a transport to a black female," Romaguera said over police dispatch. According to his account, he drove the woman back to the group home, and then returned to his shift. However, the owner of the home confirmed that no police officers arrived that night, and the time the woman returned conflicts with the officer's claims.
Romaguera was placed under investigation after the woman came forward and said that not only did he not take her home, he took her to a hotel and sexually assaulted her.
"I said, 'No, don't touch my breasts, don't touch!' He tried to kiss me too. I said, 'No! Don't touch me!" the woman told Local 10, claiming that the officer tried to have sex with her, but finally left the room after she repeatedly refused his advances and began crying.
An attorney representing the woman, Stephan Lopez, pointed to the fact that Romaguera took advantage of both the woman and the hotel employees by acting as if he was just another helpful officer in uniform. "She didn't run. She didn't call the police, because he was the police," Lopez said.
According to the hotel's surveillance cameras, Romaguera held the woman's hand as he escorted her down the hall and into a room, where he stayed for approximately 10 minutes before leaving.
"The surveillance videos clearly establish a complete departure from all law enforcement policies and procedures," Phillip Ortiz, another attorney for the woman, told Local 10 News.
"Sgt. Romaguera's justification for holding our client against her will at the Stadium Hotel that evening is completely devoid of any factual basis," Ortiz said. "She was never the victim of a vicious domestic violence incident who had nowhere to seek refuge. This was a deliberate act designed to prey on a young woman."
Several months after the incident took place, Romaguera was given a taxpayer-funded vacation—or suspended with pay—in January. According to a report from Local 10 News, a criminal investigation by the Florida Department of Law Enforcement is ongoing.
As The Free Thought Project has reported, the saga of police officers being caught sexually assaulting women—and even children—and going on to either keep their current jobs with no repercussions, or to find new jobs at other departments, is not uncommon.