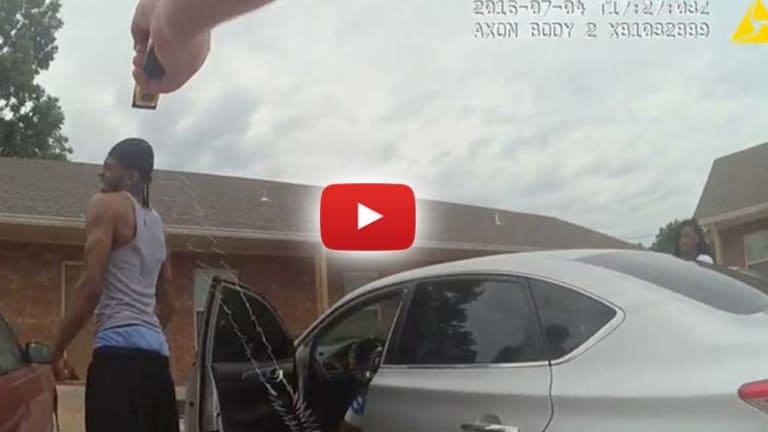 VIDEO: Cop Tases Man BEFORE Saying He's Under Arrest — Taxpayers Held Liable
The taxpayers of Blytheville, Arkansas are footing the bill after a cop, without reason, tasered a man before he even informed him of a potential arrest.
Blytheville, AR — The body camera of a Blytheville police officer has cost taxpayers thousands after it captured the cop taser a man without warning and for no reason.
Chardrick Mitchell, 25, of Blytheville was awarded $35,000 on Friday when the Blytheville City Council met in special session and approved the settlement, said Mike Mosely, an Arkansas Municipal League attorney who represented the defendants, as reported by Arkansas Online.
"We are happy it's been resolved," Mosely said. "This is the proper resolution."
In his lawsuit, Mitchell claimed that Blytheville officer Steven Sigman used excessive force when the officer tasered him while responding to a disturbance call.
As Arkansas Online reports, Mitchell claimed in his lawsuit that he was "calm and quiet" and at no time resisted arrest, but that Sigman still fired on him with the electrical device.
According to police documents, the officer was responding to a non-violent domestic argument. Mitchell's ex-girlfriend called police on July 4, 2016, after she alleged he wouldn't let her into his apartment to get her clothing she left inside.
When officer Sigman showed up, he asked Mitchell for his name and told him to let his ex-girlfriend in to get her things. According to the court documents, Mitchell "politely refused."
Mitchell was seen in the video yelling at the woman. However, no crime was committed and it was unclear whether or not his ex-girlfriend actually had any of her property inside his house.
The lawsuit accused Sigman of using a taser when Mitchell walked toward the apartment's front door. According to the suit, Sigman told Mitchell that he was under arrest "either at the moment the [taser] was fired or just as the [taser] was striking Mr. Mitchell in the back."
We can see in the video, as Mitchell stands up from the car to walk away, Sigman immediately and without warning tasers him. Only after he'd fired the taser does Sigman tell Mitchell that he's under arrest.
After he was tased, Sigman arrested Mitchell and charged him with obstruction of justice, disorderly conduct and refusal to submit to arrest.
"At no time did Mr. Mitchell resist arrest, especially since he had already been [tasered] when he was first told he was under arrest, even though he had at that point committed no possible criminal act," the document reads in part.
As Harris noted back in July, the description of the incident in the police report does not match the body camera video. Sigman said that he tasered Mitchell because he told him that he was under arrest but he kept walking. However, from the body camera video, we can see that this is a lie.
Harris wrote in the lawsuit that the "over-aggressive" behavior shown by Sigman was "an institutionalized practice of using excessive force against African-Americans in the Blytheville community."
Whether or not you agree with Mitchell's behavior in the video below, the fact remains that officer Sigman unnecessarily tasered him and then lied about it. When officers are allowed to callously dole out punishment like this, the public suffers — and the $35,000 settlement is proof of that suffering.
Had Mitchell fallen and hit his head, he could have been seriously injured as a result of this officer's unnecessary escalation. Time and again, we see officers needlessly tasering people and end up causing serious physical harm and even death.
In the meantime, officer Sigman remains on the force and we have no idea if he's faced any discipline as the department has refused to comment on the case.
[author title="" image="https://tftpstagingstg.wpengine.com/wp-content/uploads/2016/03/magorist-e1456948757204.jpg"]Matt Agorist is an honorably discharged veteran of the USMC and former intelligence operator directly tasked by the NSA. This prior experience gives him unique insight into the world of government corruption and the American police state. Agorist has been an independent journalist for over a decade and has been featured on mainstream networks around the world. Follow @MattAgorist[/author]