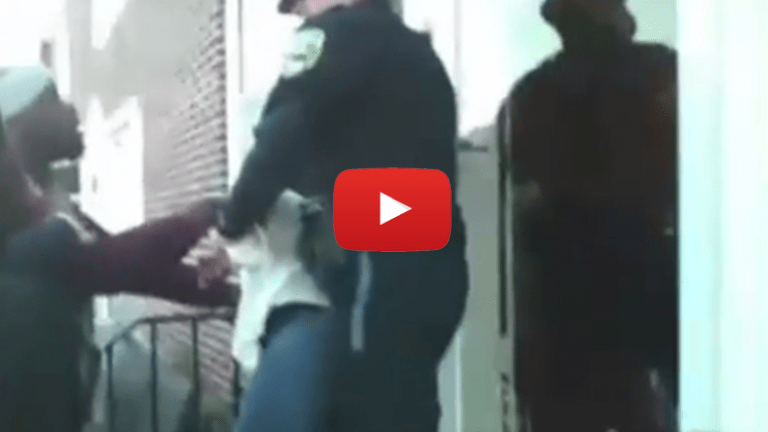 VIDEO: Cops Break into Home Arrest Innocent Woman For Filming Them
A Pennsylvania couple is suing three Collingdale police officers for entering their home without permission in an effort to confiscate a cell phone legally used to record the officers during a February confrontation in front of their home.
In the lawsuit, Kia and Michael Gaymon say that Officer Carl White entered the home without a warrant and arrested Kia after threatening to use a Taser on her. The officers are accused of unlawful arrest, malicious prosecution, retaliatory arrest, and unlawful search, according to NBC10.
The Gaymons say the incident on Feb. 22 began when police were notified to address a car allegedly parked illegally on the curb of the Gaymons' next-door neighbor. The car belonged to Michael's visiting mother.
The Gaymons said they had done nothing wrong, and that the neighbor was falsely accusing them. Kia Gaymon said that one officer began to yell at them in an "aggressive and accusatory manner," leading her to retrieve her cell phone and record the interaction.
"His behavior was so aggressive that the first thing I thought was to pull out my phone and video," Kia Gaymon told NBC10.
Filming on-duty police officers is legal in all 50 states as long as the filming does not physically interfere with officers' ability to work. A federal appeals court recently affirmed this First Amendment right, as RT reported.
Officer White took issue with being recorded, stating it was illegal to do so without permission. He advanced on Kia Gaymon, 38, to demand she turn off her phone. Michael Gaymon, 35, and the couple's daughter Sanshuray Purnell, 21, insisted she had the right to film police. The lawsuit alleges that White then told Kia that if she didn't stop recording he would enter her home, take the phone, and then arrest her. Purnell was handcuffed by a second officer for blocking White's progress.
White then entered the home without permission. Demanding the phone, White placed a Taser on Kia's chest and threatened to use it if she didn't comply.
Two officers then arrested Kia and her daughter, according to the suit, charging them with disorderly conduct.

The Gaymons' attorney said the police had no cause to illegally enter the home to make arrests.
"The actions that are described in the citation are for videoing the officer," Jonathan Fienberg told NBC10. "It's not a crime."
All charges against Kia Gaymon and Purnell were dropped by a judge shortly after their May 22 hearing.
The officers, "had no legal cause to believe that any plaintiff committed any crime," according to the lawsuit, and that they "maliciously initiated a criminal prosecution."
The suit also accuses them of illegally entering the home without obtaining a search warrant. The Collingdale police chief has yet to respond to the lawsuit.
Republished with permission from Russia Today