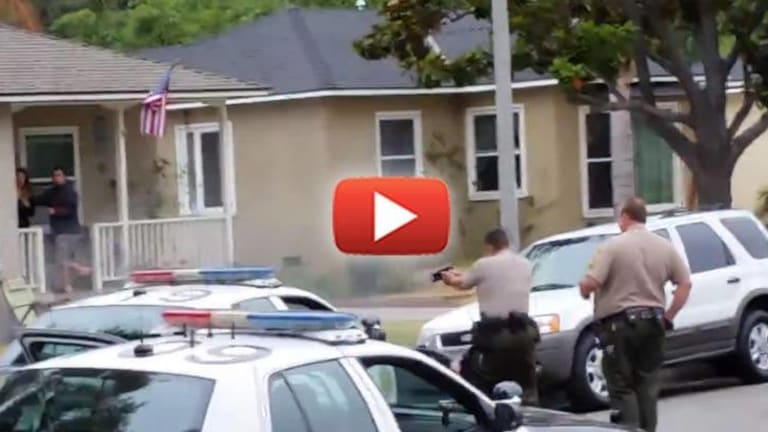 VIDEO: Cops Fire 50+ Times into Unarmed Mentally Ill Man, Whose Mom Called 9-1-1 for 'Medical Help'
A schizophrenic man's mother called for medical help with her son, instead, she received an assassination squad.
Lakewood, CA -- On July 6, Susan Berry was worried about her son's behavior, so she called authorities to receive a medical evaluation. Instead of medical evaluation, however, her son John Berry, 33, received a pack of assassins.
John suffers from schizophrenia, and when police arrived, he attempted to get into his car and drive away. Instead of de-escalating the situation by allowing the man to drive away, officers began escalating violence.
Berry had done nothing wrong. He was only attempting to get away from what he likely perceived as a nightmarish threat when he was met with pepper spray, tasers, and baton blows.
Los Angeles County Sheriff's deputies claim that Berry rammed them with his car. However, his vehicle was clearly free of front end damage that would have resulted from ramming a car.
According to deputies, the tasers, pepper spray, and baton strikes weren't working, which is likely due to the fact that Berry suffers from schizophrenia. When Berry attempted to put his car in reverse, multiple deputies pulled out their guns.
Deputies proceeded to unleash a fury of bullets into Berry's front windshield. He was struck multiple times and died on the scene.
"He was unarmed. Didn't do anything wrong. Hadn't violated any laws. Wasn't a danger to anybody," attorney Steve Carlson said.
"We agonize because we try to understand, and there's no possible way to understand what happened," Susan Berry said.
Deputies claim that Berry pinned one of the officers between his car and an adjacent sheriff's vehicle resulting in that deputy be taken to the hospital with lacerations and bruising. But the family claims that this is not true.
The Berry family has since filed a lawsuit against the Los Angeles County Sheriff's Department, hoping their case will change policy and require more training.
"I just wish they had better training. He didn't hurt anybody. He didn't do anything that day," sister Melissa Berry said.
Even if Berry did pin one of the officers behind his car, the lack of training and subsequent violent escalation by police against a mentally ill man was undoubtedly the cause of it. If Berry presented such a significant threat of running over officers, why was there an officer in such a vulnerable position?
This case is merely another indicator of police departments grossly lacking the training to deal with the mentally ill.
California law states law enforcement must be trained to interact with mentally disabled people.
Under Penal Code 13515.25,

(a) By July 1, 2006, the Commission on Peace Officer Standards and Training shall establish and keep updated a continuing education classroom training course relating to law enforcement interaction with mentally disabled persons.
Either the officers in the video below are all in violation of the above Penal Code, or the Standards and Training for handling mentally disabled people are in need of a serious overhaul.
Full video below. WARNING GRAPHIC CONTENT