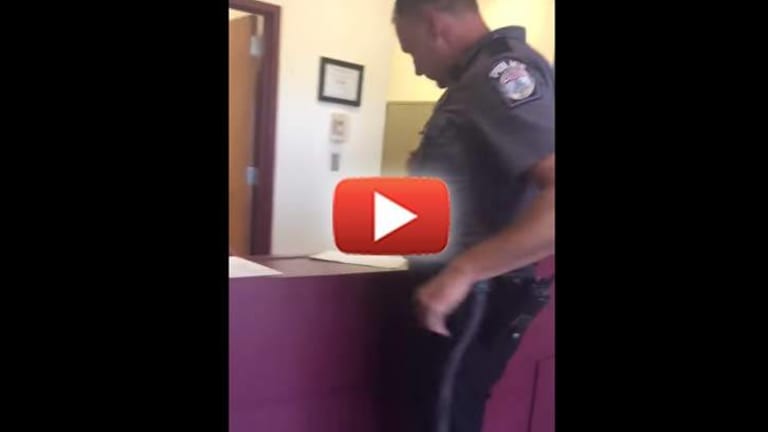 Video: Cop's Rude Behavior Makes Girl Abandon her Dream of Becoming a Cop in Just 2 Minutes
A Harrison police officer refuses to take a witness statement from a young girl who had just been in an accident, after being extremely rude to the girl and her mother.
Harrison, OH -- A Harrison police officer will not be doing any recruiting missions any time soon after a video posted to YouTube shows him talk a girl out of becoming a cop.
The video began after the girl was apparently involved in a minor car accident, to which the officer had responded and now had to take a witness statement.
"…sad that, actually, for six years I've wanted to do what you do, but after today I would not want to do anything," says the girl after being disrespected by the officer.
The mother and daughter were not disputing liability, they were merely there because he asked them to give witness statements.
"That's why you see so much negativity…" the girls says, likely referring to the public's growing dissatisfaction with the rudeness and brutality with which cops routinely treat citizens.
While she was expressing this, the cop was muttering sarcastically, saying it would be a "bad idea" for the girl to become a police officer.
This is when the mom jumps in, "How would it be a bad idea for her to be a police officer?"
The cop tries to sidestep deceptively, saying, "She just said she didn't want to. Unless you can help her out with it, maybe…"
The mom continues, "You know nothing about her. You're already assuming that it's a bad idea that she wants to be a police officer."
He tries to insinuate that the daughter is angry because he wrote her a ticket for the car accident. Then his rudeness culminates.
"When the court finds you guilty, then you can apologize."
Mom is not taking this sitting down. "She has nothing to do with you. She doesn't need to do a thing to you."
The cop goes into plead ignorance mode. "I don't know what the problem is, then."
"Your condescension," said the mom.
Apparently the cop didn't like the way mom approached the accident scene, saying she is setting a bad example for her daughter.
After a little more back and forth, the cop decides to abruptly walk out without collecting the witness statement.
"Harrison at its finest," says the mom as the cop gets into his vehicle.
At a time when police departments are having a tough time recruiting, the Harrison officer might want to adjust his attitude. The mom may have been in an anxious state, going to the scene of her daughter's first car accident, but it's still no excuse for a public servant to exude rudeness and sarcasm.