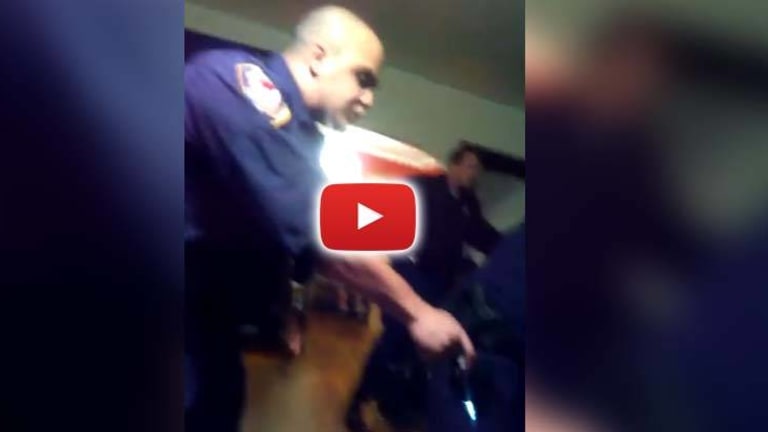 VIDEO: Cops Thought they Smelled Weed, So they Broke into a House & Terrorized the Occupants
Police officers thought they smelled a plant, so they broke into a home and assaulted, kidnapped and caged the occupants.
Durham, NC -- A chaotic scene was captured on video last week as officers broke into a home without a warrant after they smelled marijuana and assaulted the occupants.
By the way the police handled the situation, one would think that they were dealing with a cult of murderers or child snatchers. However, they were merely seeking out a plant that is legal in some form in over half of the United States.
As the video begins, there is screaming on both sides. One young man walks by limping, claiming that officers beat him with a club. Another man is heard claiming that an officer struck him with a gun. As officers trample throughout the house in their asinine and tyrannical search for a plant, tensions rise once again.
Within seconds, the woman filming, Vera McGriff was thrown to the ground, tasered and police were drawn down on all the occupants. The sound of tasers can be heard multiple times.
"We all sat in handcuffs for 4-5 hours while they waited for the search warrant ...Everybody was tased, one officer hit my son in the face with his Glock 9, we were choked, kicked, thrown down on the floor," McGriff wrote in a Facebook note accompanying the video.
According to the DPD, they claim two officers were assaulted. However, this was not captured on the video.
DPD public affairs manager Wil Glenn told the INDYthat the officers—part of the DPD's High Enforcement Abatement Team (HEAT) unit—were following up on a previous drug arrest at the home. When they smelled marijuana, they "secured the residence," Glenn says.
Apparently, breaking into a home and attacking people, who have caused no harm to anyone else, in search of a plant -- is the proper way to "secure the residence."
According to Glenn, Khadir Cherry tried to grab an officer's weapon and refused to obey lawful orders, and Raynell Hall struck an officer in the shoulder. Again, none of this was seen on video.
The INDY reports Cherry was arrested and charged with two counts of possession with intent to manufacture, sell and/or distribute; maintaining a dwelling; two counts of assault on a government official; resisting a public officer; and possession of marijuana paraphernalia.
Hall was charged with assault on a government official and resisting a public officer. Another person in the home, Jahmon Cedeno was also arrested and charged with assault on a government official. McGriff, the homeowner, was charged with maintaining a dwelling and resisting a public officer.
Sadly, incidents like this one play out every hour of every day in homes across America. The people inside that Durham home had harmed no one, yet a group of armed men broke into their house, assaulted, kidnapped, and caged them -- and society will refer to those men as heroes.
Who, exactly, are the police officers in the video below protecting? Who is served by their actions?
[author title="" image="https://tftpstagingstg.wpengine.com/wp-content/uploads/2016/03/magorist-e1456948757204.jpg"]Matt Agorist is an honorably discharged veteran of the USMC and former intelligence operator directly tasked by the NSA. This prior experience gives him unique insight into the world of government corruption and the American police state. Agorist has been an independent journalist for over a decade and has been featured on mainstream networks around the world. Follow @MattAgorist[/author]