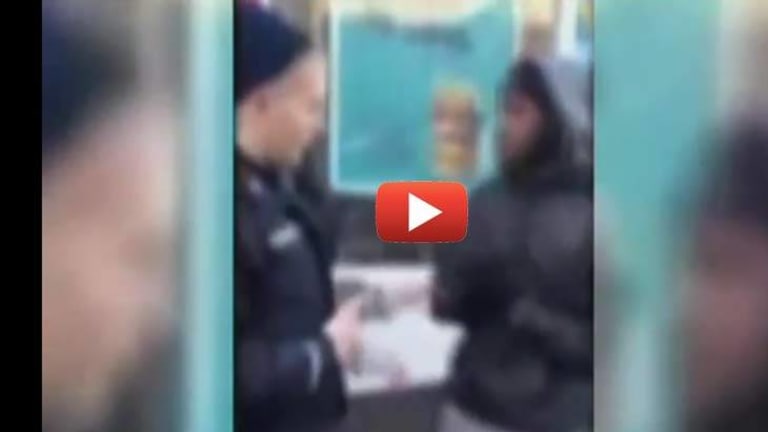 Video Exposes Lying Cop Who Punched a Man in the Face and Charged HIM with Assault
A cell phone video clearly exposes a lying bully cop who punched an innocent man in the face and then charged HIM with assault.
Baltimore, MD -- A Baltimore police officer is being investigated after a cell phone video exposed his attempt to bully an innocent man.
Had the camera not been recording the police interaction of 19-year-old Antonio Moore a jury would have most assuredly convicted him of the charges he faces for being assaulted by a cop.
After he had been punched in the face, Moore was then arrested and charged with second-degree assault and disorderly conduct.
In the officer's statement of probable cause, he wrote that Moore:
"without warning began rapidly advancing towards me in a threatening, hostile manner so I placed my arm out to create a distance and halted his advance."
Luckily for Moore, the video proves the cop is lying.
"The video shows the proof. I didn't try to attack the officer," Moore said.
According to CBS Baltimore, City police were unaware of the video until WJZ showed it to them. While police would not speak on camera, the department is investigating and explains the video only shows a portion of what happened.
In the video, the officer appears to be forcing the teenagers to move from in front of a McDonald's. But the situation quickly escalated into a violent one when the bully cop thought he could place his hands and "poke" this innocent man in the chest; a likely attempt to flex his "authority."
Refusing to be belittled and disrespected, Moore simply swats the bully officer's hand from his chest. The officer then waylays him in the face. He then cuffs and arrests the man, for doing nothing wrong.
"He punched me for no reason," Moore said, and he is unquestionably correct.
Sadly, this is the case more often than not. Countless people who are victim to police brutality often end up being charged with assault by the very officers who assaulted them. That is why filming police encounters is so important.
Below are 7 rules for how to respectfully and professionally record the police. For an in-depth explanation of each rule, see the full report here.
Rule #1: Know the Law (Wherever You Are)
Rule #2 Don't Secretly Record Police
Rule #3: Know How to Respond to "Shit Cops Say" ("Please stop recording me. It's against the law.")
Rule #4: Don't Share Your Video with Police
Rule #5: Prepare to be Arrested
Rule #6: Master Your Technology
Rule #7: Don't Point Your Camera Like a Gun
Watch the video below and let us know what you think in the comment section.