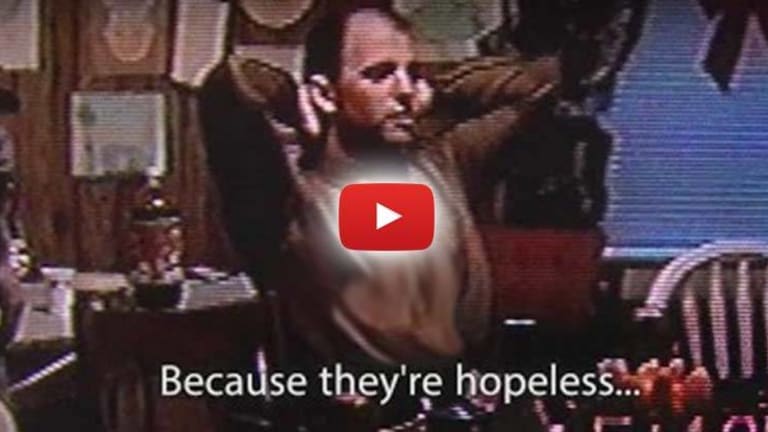 Video Shows Sheriff, Congressional Candidate Brag About Abuse of Special Needs Children
Recently caught lying on video, a sheriff currently running for Congress admitted to participating in systemic child abuse and torture.
Pinal County, AZ – After repeatedly denying knowledge of rampant child abuse, a video recently surfaced depicting the sheriff bragging about abusing and psychologically torturing children with special needs. Instead of confessing to his participation in the mistreatment of vulnerable children, the sheriff blames his sister for releasing the video and is currently running for Congress.
While serving as Headmaster and Executive Director at DeSisto Private Boarding School in Stockbridge, Massachusetts, from 1999 to 2001, Pinal County Sheriff and Congressional Candidate Paul Babeu attended a Christmas dinner with his family in 1999. In a video recorded that night, Babeu callously endorsed and bragged about using abusive methods and psychological torture to discipline his special needs students at DeSisto. Referring to his students as "absolutely bonkers," Babeu explained his reasons for placing the children in isolation for days at a time.
"Because they are hopeless," Babeu rationalized. "Because they're hopeless. They need to get through, this is why. They need to feel hopeless and feel depression and complete failure."
In the video, Babeu and his family repeatedly laughed as he described troubled students placed in a corner for weeks at a time or forced to work manual labor for up to year while often being deprived of food and water. A student diagnosed with bipolar, ADHD, and impulsive control disorder was cornered for weeks until he became depressed, stopped taking his medication, and began urinating and defecating on himself. After the teen was taken to the emergency room and treated for pneumonia, he was immediately sent back to the corner.
"When they are down on the farm, there's additional staff," Babeu continued. "There's additional supervision. There's alarms on the doors and windows. During the night, everything like that. They are given additional therapy, too. And then, they are on work crews, and if there's all kind of trouble, they get down on their knees, they are lobbied, and they have to sit down and talk things through. And the kids through their peer pressure and they're taken, their privileges are taken away from them for all this stuff, it's very disciplined down on the farm. And it works. And if kids need to be restrained, we restrain them…"
Although Babeu claimed that his staff was restraint certified, the state found that not a single staff member was qualified to restrain students or have unsupervised contact with the students. While routinely and excessively restraining students, staff members also used students to restrain other students. Utilizing dangerous techniques, including grouping and hand-holding, Babeu's students were forced to go the bathroom and use the shower together, which resulted in cases of physical and sexual abuse.
"It's like the basic training kind of thing too, where, you know, they are grouped, they are hand-held, there are different things you can do to bring them back," Babeu justified. "They have to whisper if they are really loud, like, dorm staff will warn the kids. And say, like, alright, this is your warning. Next time, you're going to be whispered. And then, if they're, so if they got a warning, they have to whisper. And if they still act out, then they are silenced. You know they can't talk at all."
Tuition at the unlicensed boarding school reached $65,000. Many of the students suffered from mental health problems, including eating disorders, depression, suicidal thoughts or attempts, schizophrenia, bipolar disorder, self-harm, Tourette's syndrome, and substance abuse issues. Instead of showing a modicum of compassion for his students, Babeu openly mocked their disorders without claiming any responsibility for their safety and development.
In 2000, the Massachusetts Office of Child Care Services filed a lawsuit and launched an investigation into child abuse practices at DeSisto during Babeu's tenure. The boarding school shut down four years later.
After assuming the office of sheriff of Pinal County on January 1, 2009, Babeu went on to run for Congress in 2012 but dropped out of the race due to various scandals, including accusations of his knowledge of systemic child abuse at DeSisto under his watch. Vehemently denying the allegations, Babeu claimed he had been unaware of any students being mistreated at the unlicensed boarding school. But earlier this week, his sister, Lucy Babeu, released the video of her brother not only supporting but also bragging about the abuse and torture inflicted upon his students.
On his website, Babeu asserts that he was "frequently recognized for his effectiveness in personnel management" at DeSisto, yet half of his employees did not receive a background check despite the fact they were working directly with special needs kids. Immediately following the release of the video, Pinal County Attorney Lando Voyles defended the sheriff's stupidity even though Babeu was blatantly caught lying about not possessing knowledge of the systemic abuse at DeSisto. Instead of apologizing to his sister for the horrid statements that he made during Christmas dinner, Babeu venomously accused her of being mentally unstable.
"I have a seizure disability and to say that I am mental because I've told the truth is discriminatory," Lucy Babeu told ABC15. "This is proof coming from Paul's mouth. Not me. He was in charge in that position. This is him. He did this to those children."
No criminal charges have been filed against Babeu. Instead of addressing his lack of compassion for children with special needs, Babeu's congressional campaign remains focused on distracting their supporters with fear-mongering tactics and fictitious terrorists planning asymmetrical warfare on Pinal County, Arizona.
Andrew Emett is a Los Angeles-based reporter exposing political and corporate corruption. His interests include national security, corporate abuse, and holding government officials accountable. Andrew's work has appeared on Raw Story, Alternet, Activist Post, and many other sites. You can follow him on Twitter @AndrewEmett and on Facebook at Andrew Emett.