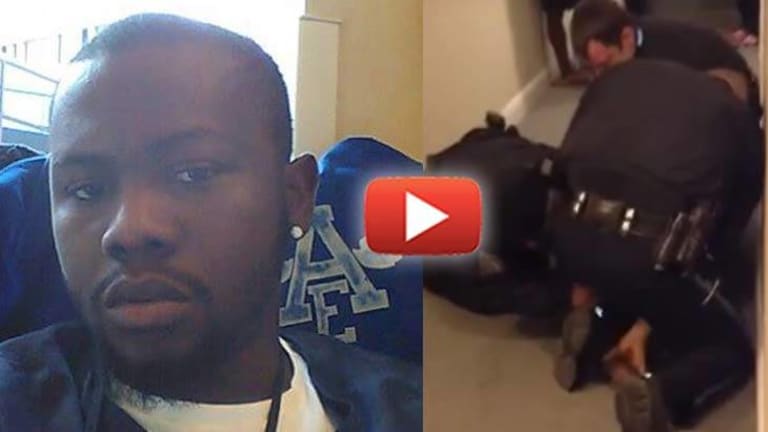 Video: Man Brutally Assaulted By Cops For Accidentally Breaking a Glass in His Own Home
For cutting his hand on a broken glass in his own apartment, a Boston man was attacked and deprived of his freedom.
Boston MA - On January 13th, a man's common household error set forth a chain of events that would lead to him being unwittingly thrust into a confrontation with the Police State.
The man in question, who asked only to be identified by his first name Michael, was enjoying a quiet evening at home when he accidentally broke a glass. In doing so, he suffered an injury to his hand and went to the hospital to seek medical attention.
While Michael was waiting at the hospital, he received a call from his fiancee that the police were at his home and wanted to speak with him. Officers arrived at the hospital a short time later and informed him that he would not be able to obtain medical assistance until he had spoken with a detective.
When the detective arrived, Michael politely asked him if he was being detained, was suspected of committing a crime or if he was under arrest. The detective advised him that he was not, but pressured him into allowing the detective to take a photograph of him. After numerous unwarranted delays, Michael tells the Free Thought Project that he was finally able to have his hand stitched up, but not before officers threatened him and his fiancee with arrest.
After receiving medical attention, Michael returned home only to have officers show up and begin asking him questions yet again. Having committed no crime, Michael immediately asserted his rights and respectfully demanded to know why the officers were at his home. The officers failed to provide an explanation when Michael asked them if he was being detained or under arrest.
Predictably, officers used a citizen peacefully asserting his rights as an excuse to escalate the situation. It was at this point, according to Michael, that the officers started getting in his face and pushing him around. He responded by immediately placing his hands in the air and repeatedly demanded to know if he was being detained or under arrest. In typical fashion, officers failed to logically explain their actions and instead responded with brute force by tackling an innocent, unarmed man. Upon hearing the commotion, several neighbors came out of their apartments and watched the incident unfold. One of the neighbors thankfully recorded the incident.
The video which was uploaded to Youtube yesterday details the events that transpired after Michael was viciously and unnecessarily tackled by police.
During the video, Michael can be seen with multiple officers on top of him, one of whom repeatedly attempts to dig his knee into Michael's head/neck area. Throughout the struggle, Michael can be heard repeatedly stating "I'm not resisting" and "I just want to know why I'm under arrest." Unsurprisingly, Michael's appeals to logic and reason go completely unheeded as more officers begin to shuffle in, forcing bystanders out of the way, including his neighbor who was recording the incident.
During the altercation, Michael also had handcuffs placed on him extremely tight which tore the stitches that he had received earlier that evening. He was eventually arrested and charged with Resisting Arrest and Assaulting an Officer. According to Michael, his court dates for these charges have been rescheduled multiple times.
"This has ruined my life" Michael tells the Free Thought Project.
Messages left for the Boston Police Department and their Community Service Office for comment have not been answered at this time.
This disturbing incident of police brutality is a direct result of an individual calling the police because they believed someone may have been in distress. When people are willing to outsource their responsibility to protect themselves and others to an outside entity, that entity will almost certainly become involved in matters in which most people would not normally choose to intervene. This fundamental premise is at the heart of the reason Americans are being routinely stripped of their liberty. As Michael poignantly states,
"They say we are free but freedom is missing."
Johnny Liberty is a researcher and investigative journalist. You can follow him on Twitter @LibertyUnltd