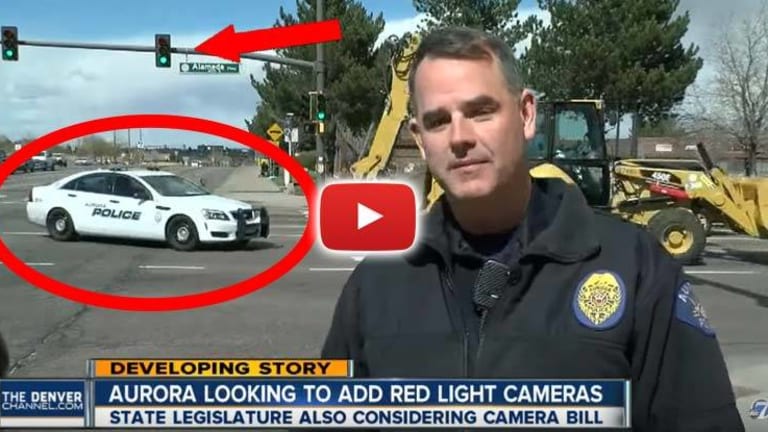 VIDEO: While Officer Says Running Red Lights is Illegal, Behind Him, a Cop Runs a Red Light
One of the greatest moments of police irony ever captured on video.
Aurora, Co -- As cities across the country are removing their red light cameras because of the corruption involved and the unconstitutional nature of them, Aurora, Colorado is going in the opposite direction. Not only did they vote to keep them, but police and city council members, who bask in the extortion fees, want to add more.
This week, the city council voted unanimously to extend their contract with Xerox and continue the red light camera extortion through next year.
According to ABC 7 Denver, they also approved to use some of the funds from the camera enforcement for Aurora police to conduct a study on what they consider to be the six most dangerous intersections in the city.
"None of them were our photo radar intersections," said Lt. Michael McClelland, who spoke before city council members at the meeting on Monday night.
In one of the greatest ironic cop moments ever captured on video, while ABC 7 news was interviewing McClelland talking about how citizens are running red lights -- an Aurora cop was captured on the news camera -- running the red light.
"Running a red light is against the law," asserts McClelland.
"Turning right on red without coming to a full and complete stop, is against the law," McClelland says as his fellow cop turns left on red dangerously blocking both lanes of oncoming traffic.
While this video is certainly hilarious, it is a kick in the head for anyone who's ever gotten a ticket. In police state USA the common man is held to the fire and used a revenue generating farm, while those who collect the revenue rub it in our faces.
Wait for it.
[author title="" image="https://tftpstagingstg.wpengine.com/wp-content/uploads/2016/03/magorist-e1456948757204.jpg"]Matt Agorist is an honorably discharged veteran of the USMC and former intelligence operator directly tasked by the NSA. This prior experience gives him unique insight into the world of government corruption and the American police state. Agorist has been an independent journalist for over a decade and has been featured on mainstream networks around the world. Follow @MattAgorist[/author]