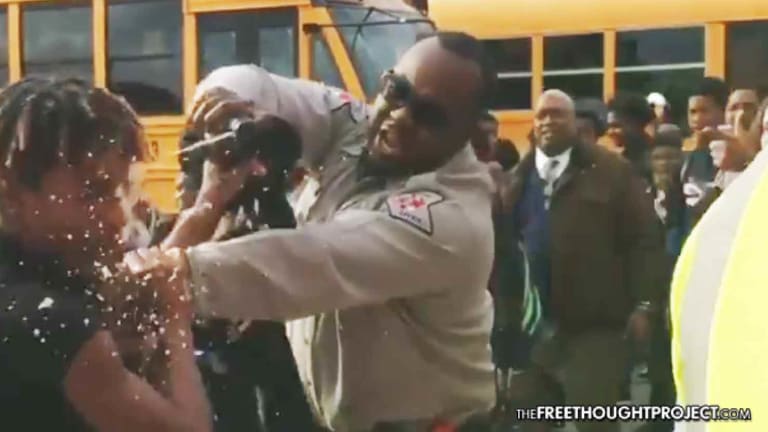 WATCH: School Cop Grabs Child by the Neck, Pepper Sprays Him Directly in the Face
A North Carolina school cop was captured on video grabbing a teenage boy by the neck and repeatedly hitting him in the face with pepper spray.
Fayetteville, NC — A particularly disturbing video of a police officer attempting to break up a schoolyard quarrel has surfaced and is shedding light on the Cumberland County sheriff's department for all the wrong reasons. In the video, we see a massive deputy grab a 16-year-old boy by the neck and spray him directly in the face with pepper spray. The boy was not the one fighting.
The incident happened on Tuesday and video of it quickly went viral after being uploaded to Instagram. 
In the video, we can see the officer holding the 16-year-old by the neck as he repeatedly pepper sprays him in the face. The teen does not appear to be fighting with the officer, only trying to protect his face from the painful chemical weapon being sprayed in it.
According to WRAL, authorities said two girls were fighting in the high school's bus parking lot when the school resource officer intervened to break it up. A 16-year-old then "interjected himself into the situation," authorities said.
Apparently, the deputy did not like the fact that the teen would interject himself into the situation, so he grabbed him by the neck and repeatedly doused him with a chemical agent.
After the video made it back to the Cumberland County Sheriff's Office, they announced that the deputy's use of pepper spray is now under review.
The teen was charged with resisting a public officer and possession of marijuana.
Cumberland County Schools, through a spokeswoman, released only the following statement in regard to the incident.
"Per the Feb. 6 incident at Seventy-First High School, there are consequences for our students' actions that led up to the event per the Cumberland County Schools' Student Code of Conduct," she said.
Sadly, as schools across the country rely more and more on police to force student compliance, instead of training and common sense, this scenario becomes more common.
Last year, the Free Thought Project reported on 6-year-old Nicholas, who is diagnosed with attention deficit hyperactivity disorder and disruptive mood dysregulation disorder. Nicholas was kidnapped from his elementary school by police and imprisoned in a psychiatric hospital.
He was held, including multiple stints in a 'seclusion room,' for three days at River Point Behavioral Health -- for a temper tantrum at school. 
If a 6-year-old boy was taken by police from a school and locked in an isolation room in the 90's, you can rest assured that this would not fly. The same goes for a 10-year-old boy with autism getting arrested and thrown in a cage. Now, however, police force as a reaction to childhood problems has become the go-to approach in the land of the free.
We also reported on the video showing a San Antonio Independent School District police officer body slam a 12-year-old girl. In February, the Free Thought Project brought you the story of the Baltimore School cop who was seen beating a student who had done nothing wrong.
In fact, recent videos have revealed a myriad of school cops attacking unarmed students. In December 2016, Officer Rigo Valles was cleared of any wrongdoing after grabbing a student by the neck and slamming him to the floor. In October 2016, Richland County Deputy Ben Fields was fired after students recorded him flipping over a girl's desk and dragging her across the floor. Oklahoma City Master Sgt. Thomas Jaha was charged with assault and battery in October as well, after repeatedly punching a student in the face for not having a hall pass.
In November 2015, prosecutors agreed to dismiss assault charges against Louisville Metro Police Officer Jonathan Hardin for punching a student in the face if the former officer completes anger management classes. Hardin still faces wanton endangerment, official misconduct, and assault charges for choking another student unconscious in a separate incident five days later. In separate incidents earlier this year, school cops have also been caught attacking an autistic boy, body-slamming a child, and raping nearly two dozen students.
And these are the ones the public knows about. How many more incidents, just like this one, go unreported and unpunished?
What this data illustrates is the societal dependence on the state to solve matters that should be handled without government. Being dependent upon the state to solve one's problems is a de facto dependency upon violence.
"THE STATE REPRESENTS VIOLENCE IN A CONCENTRATED AND ORGANIZED FORM. THE INDIVIDUAL HAS A SOUL, BUT AS THE STATE IS A SOULLESS MACHINE, IT CAN NEVER BE WEANED FROM VIOLENCE TO WHICH IT OWES ITS VERY EXISTENCE." -MOHANDAS KARAMCHAND GANDHI
If you truly want a glimpse into the horrid effects of the police state on all school children, take a scroll through our archives, at this link.
Until people wake up to the reality of relying on a system of violence to maintain "order" and behavior compliance, we can expect this problem to get worse.