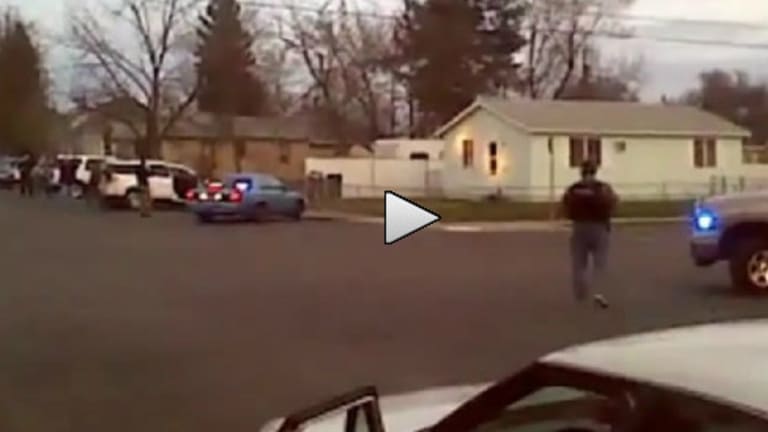 Video: Police Shoot and Kill Man as He is Surrendering
March 28, 2014
Spokane Police Department officers shoot and kill 30-year-old Steven C. Corkery* in a recent armed robbery investigation after staking out a North Spokane home most of the day. Investigators have not identified the suspect or officers involved. They say a handgun was located nearby. The Washington State Patrol is leading the investigation.
Video taken from a witness to an officer-involved shooting in northwest Spokane on March 26, 2014, shows a man leaving a single-story house who is then fired upon several times. This video was posted to Facebook .
This is the 4th officer involved shooting this year alone in Spokane, the other 3 are below:
• March 4, 2014: Spokane County Sheriff's deputies shoot and injure 37-year-old Bonnie Ulrick during a standoff at a Motel 6 in Spokane Valley. Ulrick suffered a gunshot wound to her hand after allegedly making a threatening motion with a firearm. Deputy Mike McNees, a member of Spokane County SWAT, was named as the deputy who fired. The WSP continues the investigation.
• Feb. 11, 2014: Spokane County Sheriff's deputies shoot and kill 23-year-old Jedadiah Zillmer in a confrontation near the Spokane Valley Mall after Zillmer allegedly made a threatening move with a firearm. Zillmer, a former Army soldier, had led authorities on a lengthy highway pursuit. Investigators say he was armed with multiple weapons and made statements he wanted to die. Investigators say aspects of this shooting were captured by the body camera of a Liberty Lake police officer on scene. Six deputies, including Brian Hirzel, Brett Hubbell, Dale Moyer, Jeff Thurman, Ryan Walter and Randy Watts were listed as firing their weapons. The Spokane Police Department continues investigation.
• Jan. 16, 2014: Spokane Police Department officers shoot and wound 29-year-old Aaron D. Johnson outside the Truth Ministries shelter on East Sprague. Johnson, who has a history of minor crimes and schizophrenia, allegedly threatened staff at the shelter before police confronted him behind the building. Officers Christopher Conrath, Holton Widhalm, Michael Schneider and Sgt. Terry Preuninger were named in the incident. Schneider attempted to taser Johnson. Conrath and Widhalm then fired their pistols. The WSP continues the investigation.
What do you think? Did this man pose an imminent threat? Tell us about it in the comments.