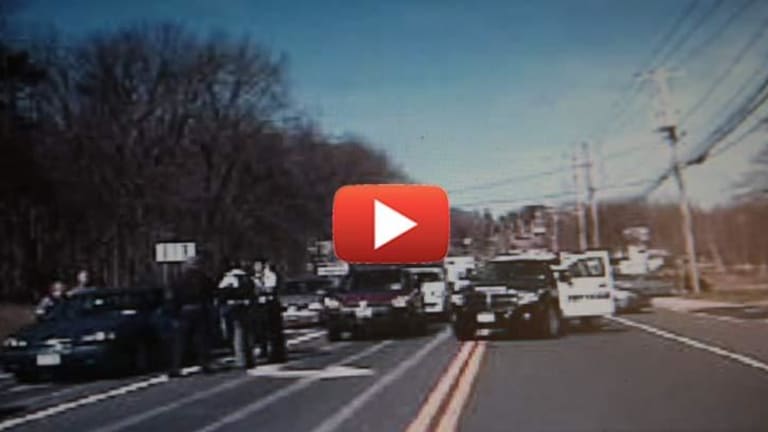 VIDEO - Multiple Cops Held at Gunpoint by Other Cops Who Mistook them for Criminals
New York officers say they were racially profiled after they were swarmed by multiple officers with guns drawn while on a call.
Village of Suffern, NY -- Video has been released of an incident that occurred last spring in which four veteran New York police officer were surrounded and held at gunpoint at a busy intersection by Ramapo Police.
As we previously reported, the officers were riding in a state-issued vehicle, attempting to execute an arrest warrant when suddenly the car was surrounded at gunpoint by cops from the Ramapo Police Department and one from the Village of Suffern.
"All I could think of was if I sneeze, or blink, or clear my throat, that, yeah, I might have a bullet lodged in my head," said Annette Thomas, one of the officers in the car that night.
The Ramapo police were allegedly responding to a 9-1-1 call placed reporting black people wearing bulletproof vests in a car.
Dash cam footage shows a hectic scene as the police speed up and box the parole officers in, jumping out with guns drawn. The officers in the car surrender immediately, completely unaware as to why this was happening in the first place. The footage shows a Ramapo officer reach in and open the driver's side door as Officer Mario Alexandre emerges, hands up. After all four officers are out of the patrol unit, a third officer wielding a rifle approaches the group. This all occurs mid-morning, in the middle of a busy intersection.
All four officers were wearing their vests and shields, riding in a state-issued vehicle with a parole placard on the dashboard reading "State of New York — Executive Department — Division of Parole." They informed the Ramapo cops they had just come from a home in Suffern, attempting to execute an arrest warrant, and provided information for them to verify that.
So why, after all these identifying factors, were these officers put through this by the Ramapo Police?
Well, the four black officers are suing, accusing the Ramapo Police of racial profiling. In the suit they claim "they were traumatized, humiliated and feared for their lives." They haven't yet returned to work and are currently on workman's compensation.
"If I do return to work, I still have to encounter working with other law enforcement agencies and I'm not sure how I'm supposed to do that when I'm fearful, distrusting. I basically felt betrayed," said Thomas.
"If these guys aren't safe, imagine what a young black man feels about interacting with the police," said Damon Jones, the New York representative of Blacks in Law Enforcement of America. "They have no chance."
Along with racial profiling, the lawsuit, which names Ramapo PD, Rockland County, the village of Suffern and Suffern Police Department as defendants, is also alleging an attempt at a coverup. Both the audio from the footage and the police report have not been released. While an investigation is underway, Ramapo police have refused to answer any questions, directing all inquiries to Ramapo Assistant Town Attorney Dennis Lynch. According to Lynch, "The actions of the town of Ramapo police were reasonable under the circumstances."
Lynch has not clarified why there is an investigation if the actions of the town's police were reasonable.
Grant Valentine of Chestnut Ridge, a retired parole officer and NAACP member, spoke of the incident, saying "I think it was an absolute case of racial profiling. I think what they saw was four black people they perceived to have guns in a car and they reacted based on those assumptions."
While it is not specified how much the suit is seeking in damages, it does ask the court to require special training of both the Ramapo and Village of Suffern Police Departments, "to prevent such conduct in the future."