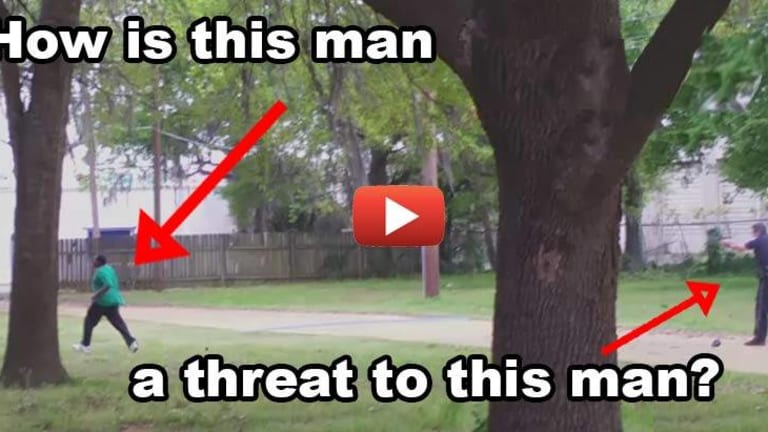 Video Refutes Cop's Claim of "Fearing for his Life," Shows Him Kill Unarmed Man as He Ran Away
After bystander cellphone video has surfaced, this officer is now being charged with murder.
North Charleston, S.C. – A North Charleston police officer, Michael Slager, 33, has been arrested for the murder of 50-year-old Walter Scott, after video footage surfaced which showed Slager firing at least 8 times as Scott ran away.
The video directly contradicts Slager's official incident report.
The footage shows the end of the confrontation between the two on Saturday after Scott, who had a warrant out for his arrest, ran from a traffic stop.
Slager claimed in his report that Scott, after being pulled over for a broken tail light, ran away with himself in pursuit on foot.
The officer claimed that when he got out his Taser to subdue Scott, Scott attempted to take it from the officer, resulting in the officer fatally shooting him, claiming that he "felt threatened."
The footage captured on camera obliterates the officer's report as a total fabrication simply meant to justify him murdering Scott after the fact.
In the video you can actually see the officer drop his Tazer in what looks to be an attempt to plant evidence to forward his false narrative.
"I can tell you that as a result of that video and the bad decision made by our officer he will be charged with murder and that's not something that we like to hear," Mayor R. Keith Summey said at a press conference.
According to ABC News, Scott family attorney Chris Stewart said that of the eight shots fired four hit Scott in the back and on hit him in the ear, with two of the shots being fatal.
In what can only be described as cop logic, Slager's attorney David Aylor said in a statement to WCIV,
"Officer Slager believes he followed all the proper procedures and policies of the North Charleston Police Department."
Slager has been placed on administrative leave indefinitely though that was not mandatory; his placement on administrative leave was departmental and not due to state law. The case is being investigated by the South Carolina Law Enforcement Division.
The claim that Slager followed proper policies and procedures, after watching the footage showing him gun a man down in cold blood, could not ring more hollow.
Had this not been video taped he would have undoubtedly gotten away with murder. The boot lickers will say this was an exception, I say it's the rule.
Jay Syrmopoulos is an investigative journalist, freethinker, researcher, and ardent opponent of authoritarianism. He is currently a graduate student at University of Denver pursuing a masters in Global Affairs. Jay's work has previously been published on BenSwann.com and WeAreChange.org. You can follow him on Twitter @sirmetropolis, on Facebook at Sir Metropolis and now on tsu.