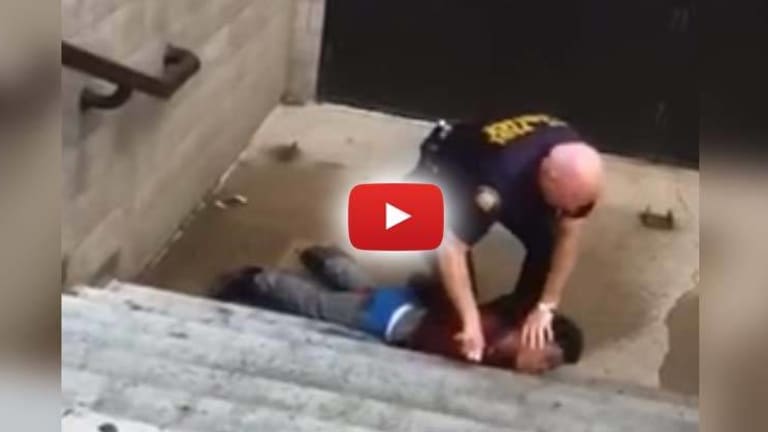 VIDEO: School Cop Caught on Camera Violently Throwing Around a Teen Half His Size
Captured on video throwing a nonviolent teen against concrete steps after pepper-spraying him in the face, a school cop went too far.
St. Paul, MN – After pepper-spraying a teen in the face, a school resource officer was caught on video violently slamming him into a concrete staircase before brutally assaulting him. Although the teen was not attempting to fight back, the officer kneed him in the back before viciously wrenching the boy's arms in a blatant example of excessive force.
During the last class period on Wednesday, an 18-year-old Central High School student named Nelson Moroukian recorded a ">cell phone video of a school cop brutalizing a former student during an arrest. According to the video, Officer Bill Kraus held the teen against a wall while the former student pleaded for help.
"You want more?" Kraus antagonized as the teen remained against the wall clutching his own face.
"What is wrong with you, dude?" the teen asked.
"Get down," Kraus ordered.
As the teen attempted to explain that he was at the school to talk to a teacher, Kraus tossed him against the bottom of a concrete staircase before slamming his knee into the nonviolent boy's back.
"Get you hands behind your back," Kraus commanded. "Now!"
"I can't, nigga!" the teen exclaimed in agony with both his torso and the concrete steps inadvertently pinning down his own arms. "My hands are stuck behind the fucking…"
"Let me unstuck 'em then," Kraus ominously said while placing his hand against the teen's face and wrenching the boy's arm behind his back.
"What is wrong with you?" the teen asked as Kraus unnecessarily twisted his right arm for several seconds.
"Put your other hand—" Kraus began.
"I can't, bitch!" the teen interrupted. "You fucking on me!"
As Kraus violently pulled the teen's other arm behind his back and cuffed him, a voice could be heard off-camera ordering Moroukian to turn off his camera. While Moroukian refused to turn off his cell phone, the handcuffed teen repeated, "I came to talk to a teacher!"
"I can record him," a voice retorted off-camera. "I'm allowed to."
With Kraus pulling the teen to his feet and leading him up the stairs with his arms bent painfully behind his back, the teen declared, "I have no drugs on me. No weapons. Nothing! What the fuck is going on?"
At that moment, Kraus purposely shoved the compliant teen against a patrol car for no apparent reason while continuing to aggressively hold his arms behind his back in order to continue inflicting pain.
"You fucking see this shit?" the teen asked Moroukian as Kraus pushed his head against the car. "I got maced and shit. I ain't never been maced in my entire life! This some bullshit! I'm 5' 2". He slammed my head into the ground, man!"
With school officials appearing on the scene and ordering the witnesses to stop recording the incident while threatening them with detention, the students continued recording as the arrested teen pleaded for someone to pick up his fallen cell phone.
According to Moroukian, Central High Principal Mary Mackbee called him after the high school senior posted the video on Facebook. Mackbee informed Moroukian that the teen in the video had been trespassing and did not immediately cooperate with Kraus. Despite the fact that Kraus appeared to use excessive force throughout the video against a nonviolent teen, Mackbee did not explain why violence had been necessary.
According to Toya Stewart Downey, spokeswoman for St. Paul Public Schools, the arrested teen had previously been enrolled at Central High before transferring to a different high school earlier this school year. Downey was also unable to explain why a chemical irritant and violence were used on a nonviolent teen.
While the police conduct a review into the controversial arrest to determine whether the use of force had been appropriate, several people on Facebook claiming to be former students have recently accused Kraus of bullying, making racial slurs, and committing needless violence against other students prior to this incident.
[author title="" image="https://"]Andrew Emett is a Los Angeles-based reporter exposing political and corporate corruption. His interests include national security, corporate abuse, and holding government officials accountable. Andrew's work has appeared on Raw Story, Alternet, Activist Post, and many other sites. You can follow him on Twitter @AndrewEmett and on Facebook at Andrew Emett.[/author]