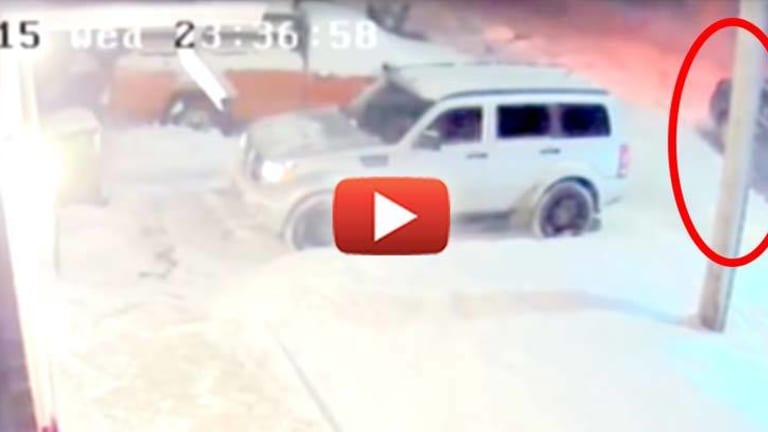 Video Shows Raging Cop Ram SUV into Man's Car for Trying to Hold Him Accountable
A man is facing charges after a police officer was seen ramming his SUV into his car for attempting to report his bad driving.
Montreal, CA -- A man is facing charges after a police officer was seen ramming his SUV into his car for attempting to report his dangerous driving.
According to Jeffery Pokora, he was driving down the street earlier this year when he was nearly hit by a reckless SUV that came barrelling through a stop sign. The driver of the SUV was SPVM Police Officer, Roberto Tomarelli.
Pokora then followed the driver to report his unsafe driving. The rest of the scene is caught on video after Tomarelli pulls into a parking spot.
As the video begins, the two men get out of their vehicles and talk to each other for around three minutes.
"I asked the gentlemen, 'excuse me sir, but you mind explaining to me what you, and why you, did what you did back there?'" Pokora said.
In a blog post, Pokora wrote, "He then proceeds to get into very close personal space, less than thirty-six inches, and proceeds to aggressively start yelling into my face."
During the conversation, Pokora says that the officer tried to intimidate and threaten him. Pokora said that Tomarelli took "his right index finger and starts to poke and drill me several times and repeatedly into my left shoulder."
Pokora recounts, "As I proceeded to take out my smart phone, to call 9-1-1, the owner of the grey 4x4 then got on his cellular phone and started reading my license plate information, to whom I assumed was also another 9-1-1 operator. At this point, I decided to ignore and have no further discussions with the owner of the grey 4x4 until police could arrive on the scene and defuse the matter, as it was clear to me the owner of the grey 4x4 was no longer in control nor no longer in a rational frame of mind."
When the conversation is over, Tomarelli gets in his car to leave, but Pokora, while on the phone with 9-1-1, blocks him in. This move would prove to be a dangerous one.
"What happened next was EXTREMELY SHOCKING and DISTURBING to me," wrote Pokora, and the video shows this assertion to be correct.
Tomarelli proceeds to start smashing his SUV into Pokora's car, multiple times. While fearing for his life, Pokora then tried to drive away, while calling 9-1-1 back and explaining to them that a maniac is chasing him.
"I begged and pleaded with the emergency responder to help me, save me, he's going to hit me again, please help me, he's going to kill me, please, please help me (was crying with fear)," recalls Pokora.
'The owner of the grey 4x4 pursued me at such high speeds, all the way down Des Oblats Street, to LaSalle Boulevard, and all the way down into the City Of Lachine, right until the corner of 'Chemin du Musée' and 'Boulevard Saint Joseph', in front of the Toyota car dealer, where finally the horrific events came to an end, when police were able to intervene and take over the situation, and arrest the owner or the grey 4x4, or so I thought."
Instead of the police arresting the maniac who'd rammed a car and initiated a high-speed pursuit, they turn their guns on Pokora and arrest him for "harassment and intimidation."
Commander Ian Lafrenière of the Montreal Police department said they have completed the investigation and Tomarelli will face no punishment, predictably claiming that it was due to something that happened before the camera was rolling.
h/t Information Liberation